When Life Gives You a Wheelchair, Make Lemonade
Co-sponsors:
University Library
Pat Miller Fund
Committee on Lectures (funded by Student Government)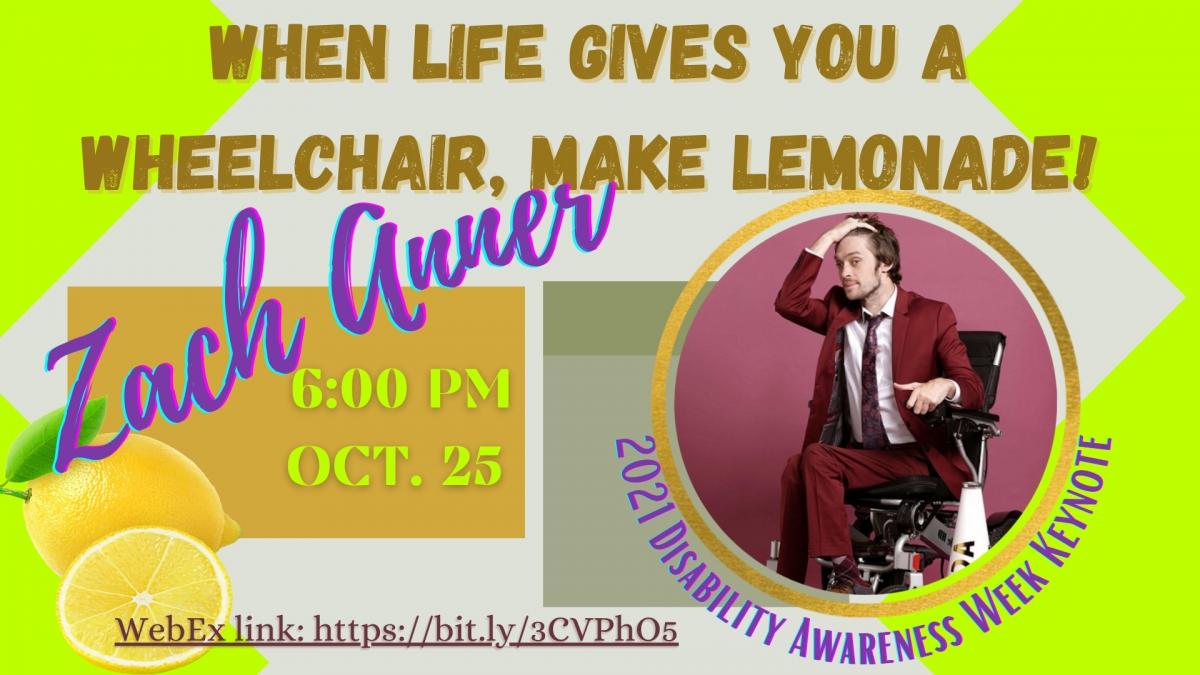 2021 Disability Awareness Week Keynote
This year's speaker is Zach Anner, who is an award-winning comedian, show host, TV writer, viral sensation, disability advocate, and public speaker. In 2011, he won his own travel show on the Oprah Winfrey Network, Rollin' With Zach. He worked with Rainn Wilson's media company SoulPancake, hosting the shows Have A Little Faith (which explored world religions), Earth Your While (which started a conversation on climate change), and Top of the Monday (which introduced good news stories). He tried his hand at sports and fitness on his YouTube series Workout Wednesdays, and he journeyed across the country with the help of Reddit in his travel program, Riding Shotgun. His videos have over 100 million views over social media platforms.

Zach was a guest star and a full-time writer on ABC's hit family sitcom Speechless. He's an Ambassador for the Cerebral Palsy Foundation and has worked with UCPLA Wheels for Humanity, which supplies wheelchairs to people in developing countries. Zach's memoir, If at Birth You Don't Succeed: My Adventures with Disaster and Destiny, is a hilariously irreverent and heartfelt memoir about finding your passion and your path even when it's paved with epic misadventure.