A Vaccinologist's Tale: A Journey from Jenner, Pasteur, and Salk to Nanomedicines and Beyond
Co-sponsors:
Sigma Xi
Committee on Lectures (funded by Student Government)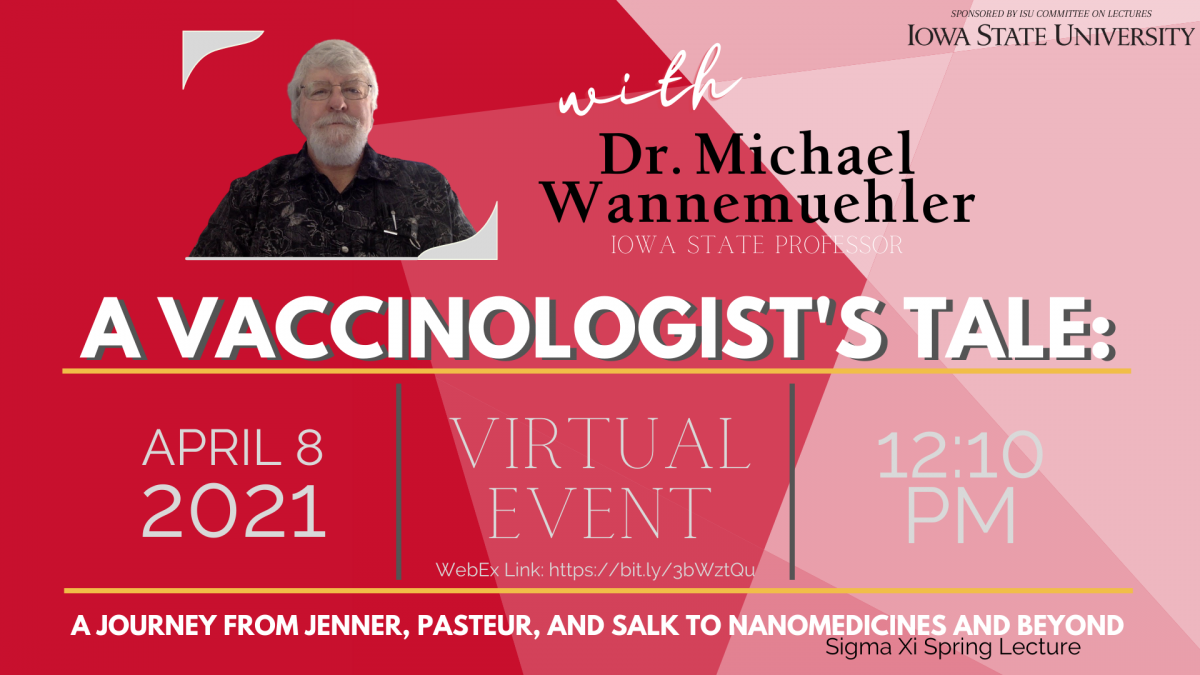 Recording Link: https://iastate.hosted.panopto.com/Panopto/Pages/Viewer.aspx?id=70624aa1-76e6-4003-bb22-ad040167ddbd
Michael J. Wannemuehler, PhD., received his undergraduate training in microbiology at Purdue University.  He worked on induction host immune responses to Salmonella while earning his M.S. at Idaho State University. During his PhD training, he worked on a vaccine against Neisseria gonorrhea at the University of Louisville.  During his postdoctoral fellowship, he studied the induction and regulation of mucosal tolerance. He joined the faculty of the College of Veterinary Medicine here at Iowa State University in the Fall of 1983, rose to the rank of Professor and has served as the Chair of Veterinary Microbiology and Preventive Medicine. Since joining ISU, his laboratory has contributed to the development an effective vaccine against swine dysentery and, along with collaborators in the Nanovaccine Institute, has worked on vaccines for tetanus, streptococcal pneumonia, pneumonic plague, anthrax, influenza, and COVID19.  His research also addresses the interaction between the resident microbiota of the GI tract and host mucosal responses to colitic insults. These studies have taken advantage of the gnotobiotic mouse colonies he has maintained at ISU. More recently, his research interests have included the interactions of microbial metabolism on the host response to vaccine administration.