Uncle Sam Wants Who? Women, Men, and the Meaning of American Selective Service
Great Hall, Memorial Union
Co-sponsors:
Liberal Arts and Sciences Fall 2021 Dean's Lecture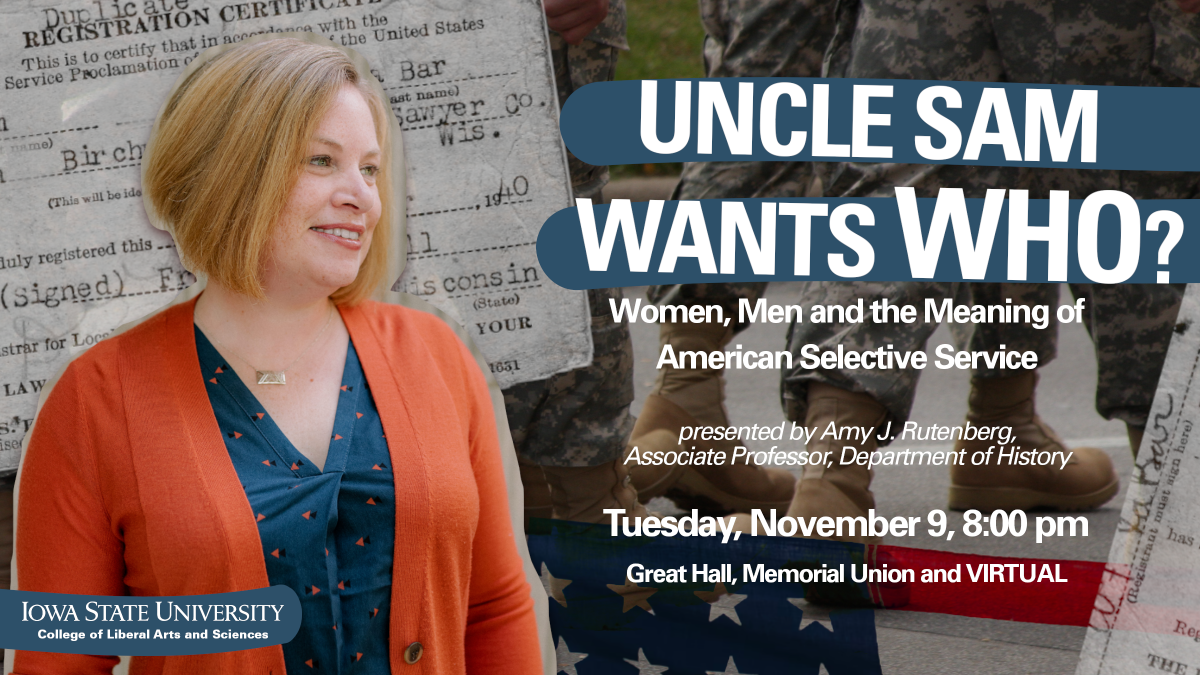 Recording Link: https://iastate.hosted.panopto.com/Panopto/Pages/Viewer.aspx?id=ef15e1ed-0880-451b-97cf-adc00122a963
Fall 2021 Liberal Arts and Sciences Dean's Lecture
Why is the question of whether women, just like men, should register with Selective Service controversial? Amy J. Rutenberg will discuss the current push for women to register in the context of the different meanings Americans have attributed to military service and the draft, over time.
Amy J. Rutenberg is an Associate Professor of History and the author of Rough Draft: Cold War Military Manpower Policy and the Origins of Vietnam-Era Draft Resistance. She is currently working on a book on peace activism and military service between the 1970s and the 1990s. Her work has appeared in The New York Times, The Atlantic, and The Conversation. She is a Trustee of the Society of Military History, the k-12 editor of www.teachingmilitaryhistory.com, the coordinator for ISU's secondary social studies education program, and the Equity Advisor for the College of Liberal Arts and Sciences. She received her B.A. from Tufts University, her Ed.M. from Harvard University, and her Ph.D. from the University of Maryland.