Symphony of Diversity
Co-sponsors:
Student Affairs
Department of Kinesiology
College of Engineering
Department of World Languages and Cultures
Accessibility Services
College of Liberal Arts and Sciences
The Margaret Sloss Women's Center
Department of Music and Theatre
College of Design
College of Business
Office of Diversity and Inclusion
Department of Art and Visual Culture
School of Education
Department of African & African American Studies
Committee on Lectures (funded by Student Government)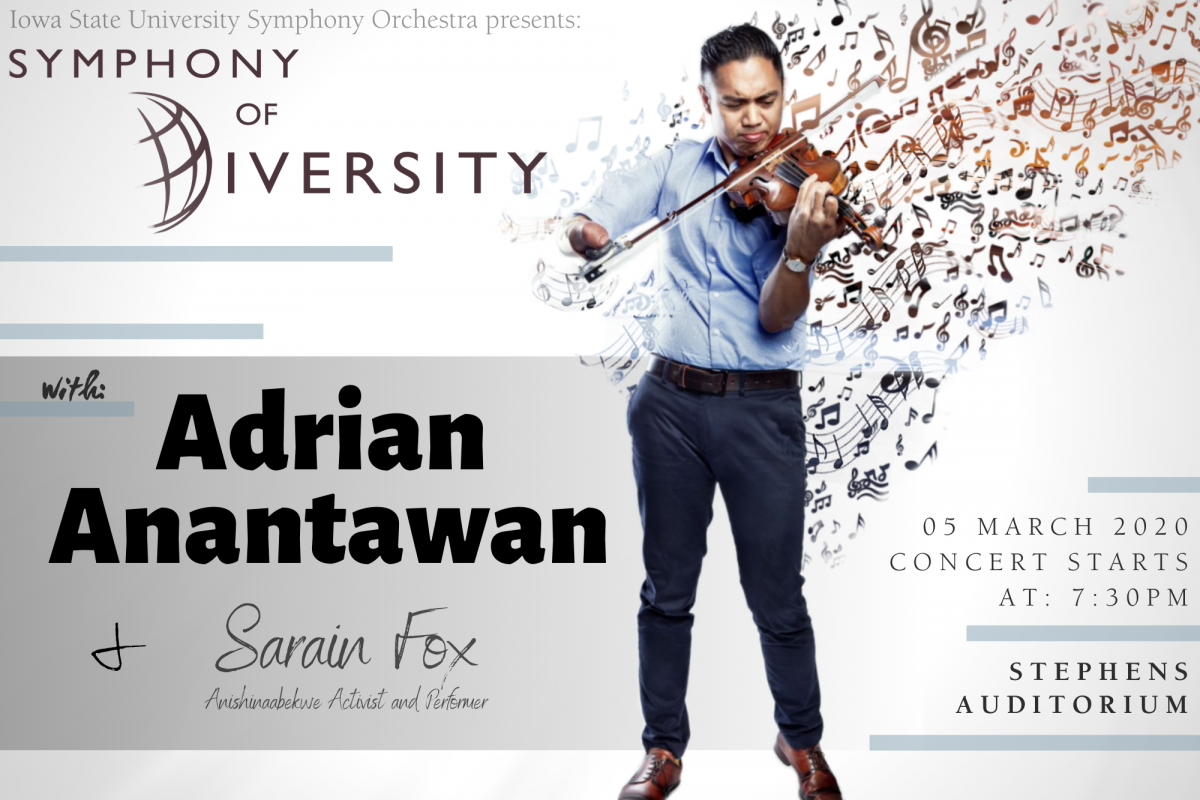 Join the Iowa State University Orchestra as they celebrate a world that is a Symphony of Diversity. Bringing uncommon artists and uncommon composers to the concert hall to highlight the many cultures and peoples that make up America, the performance features the Iowa State University Symphony Orchestra under its conductor, Jonathan Govias, along with special guest Adrian Anantawan, violin.
Doors open at 6:45pm. This event is free and open to the public. 
Program
Bal Masqué by American composer Amy Beach (American, 1867-1944)
Concerto for Violin by Amanda Maier Röntgen (Swedish, (1853-1894) with guest soloist Adrian Anantawan, violin
Juba Dance by Nathaniel Dett (African American/Canadian, 1882-1943)
Ojibwe Creation Legend "Nanabush and the Giant Beaver" by Canadian composer Richard Mascall ("Singing Beaver on Water") (2nd American performance ever)
Conga del Fuego Nuevo by Arturo Márquez, (Mexican, b. 1950)
Total program duration is just over an hour and is specifically designed to be accessible to all ages.