Surviving Hiroshima and the Struggle for a Nuclear-Free World
Great Hall, Memorial Union
Co-sponsors:
World Affairs
Committee on Lectures (funded by Student Government)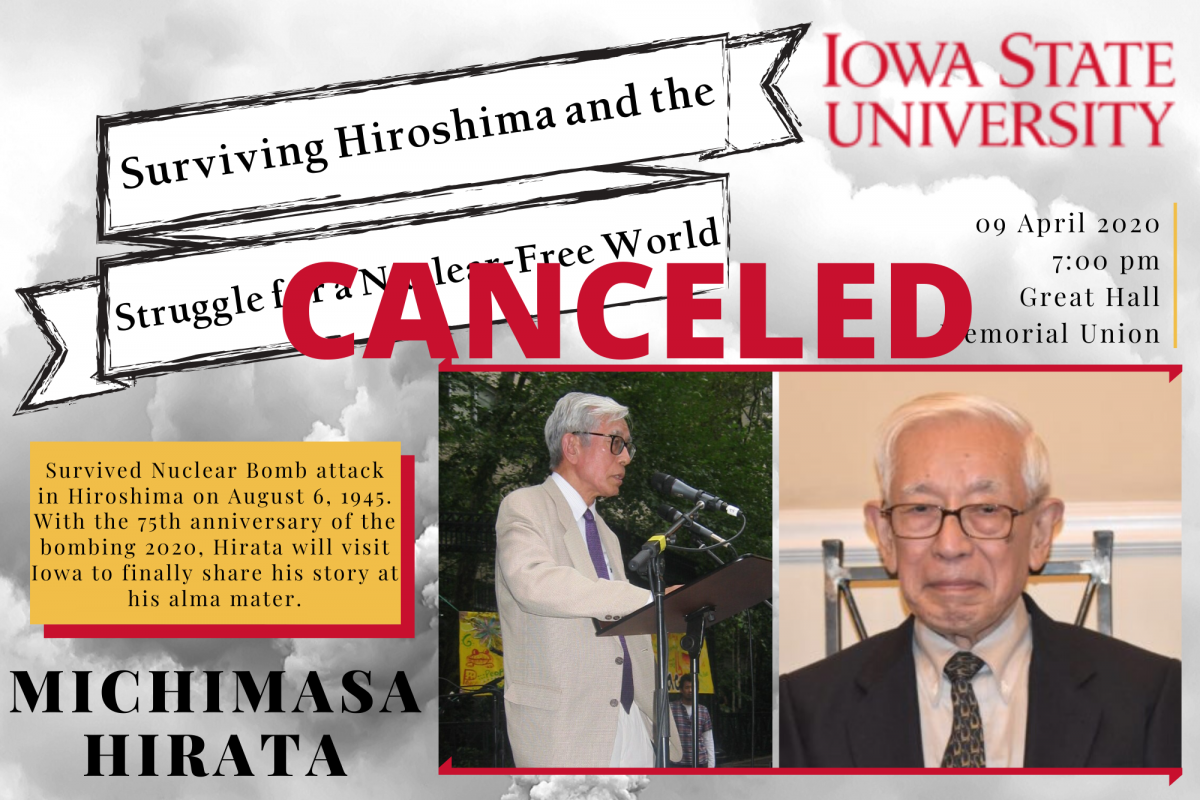 DUE TO CONDITIONS IN JAPAN, MR. HIRATA HAS CANCELED HIS TRIP TO ISU THIS SPRING. WE HOPE TO RESCHEDULE IN THE FALL.
When he was 9 years old, Michimasa Hirata survived the nuclear bomb that was dropped less than a mile from his home in Hiroshima on August 6, 1945. Japan did not acknowledge survivors or their stories and many survivors hid their injuries and stories for fear of discrimination. Hirata came to Iowa State to study for a Master's degree in Chemistry. What he learned about those he met at Iowa State and in Iowa changed his opinion of America. It was not until 1995 that Hirata began to speak out about his experience as a survivor and he began advocating all over the world for nuclear disarmament. His work has been recognized by the United Nations and he has spoken in more than a dozen countries about his journey. With the 75th anniversary of the bombing 2020, Hirata will visit Iowa to finally share his story at his alma mater.              
         _____________________________________________________________________________________________________________________________
Iowa State University Museums is currently showcasing a variety of art celebrating Japanese culture for the Contemplate Japan exhibition at The Brunnier Art Museum on the top floor of the Scheman Building.  Drawn from permanent and loaned collections, this exhibition of Japanese woodblock prints, bamboo baskets, ikebana floral arrangements, kimono, ceramics, and contemporary sculpture explores and illuminates the artistic and cultural developments emanating from Japan for the last two centuries, which greatly influenced the arts in the West.
The Brunnier Art Museum is open Monday through Friday from 10 a.m. to 4 p.m. as well as Saturday and Sunday from 1 p.m. to 4 p.m.  On 9 April, the Brunnier will be hosting guided tours of Contemplate Japan at 5:30 p.m prior to "Surviving Hiroshima and the Struggle for a Nuclear-Free World" by Michimasa Hirata. https://www.museums.iastate.edu/art/exhibitions/contemplate-japan/