Story County Mental Health Expo: Escape for Overcoming Anxiety and Intrusive Thoughts
Great Hall Memorial Union
Co-sponsors:
Committee on Lectures (funded by Student Government)
Optimae Behavioral Health Services
Mary Greeley Medical Center
Ames Police Department
SignCraft
Iowa Water & Waste Systems
ISU Police Department
YSS
Central Iowa Psychological Services
Arcadia Lodge #249 AF&AM
Hecks
Wilson Toyota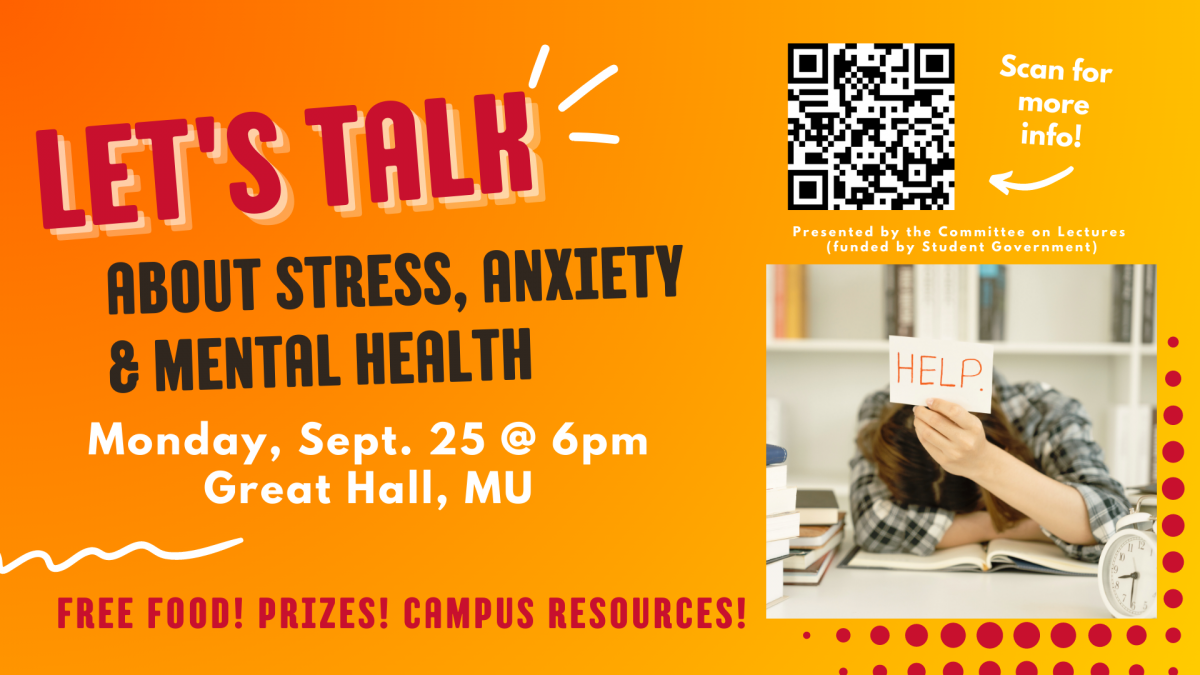 This lecture was recorded and can be viewed on the Available Recordings page. 
---
This free event kicks off with a local mental health provider fair, where representatives will be available to share information about on-campus and community mental health services, plus free food and great prizes!
6pm - Vendor Fair Begins + Enjoy Free Food
7pm - Keynote, Panel Q&A
8:15pm - Prize Drawing
8:30pm - Vendoor Fair Closes
---
Participating vendors include: 
ACCESS Assault Care Center

Alternative Response for Community Health (ARCH)

Alternatives Arrest Diversion Program

Ames Police Department

Ames Public Library

Ames Romero House

Catholic Charities

Central Iowa Psychological Services

CICS

Community and Family Resources
Community Support Advocates

Inside Out Wellness & Advocacy

Iowa Total Care

Iowa Vocational Rehabilitation Services

ISU Extension and Outreach

ISU Office of Student Assistance

ISU Police Department

ISU Student Health and Wellness
Lutheran Services in Iowa

Martha's House of Hope

Mary Greeley Medical Center Behavioral Health Services

Mid Iowa Community Action

Molina Healthcare of Iowa

NAMI Central Iowa

Optimae LifeServices

Primary Health Care

Romans Ranch, Inc.
SIBBA (State of Iowa Black Belt Association/Cyclone Martial Arts)

The Bridge Home

The RedShirt Foundation

UCS Healthcare

UnityPoint Health Eyerly Ball

United Way of Story County

Walnut Creek Psychiatry

YSS
This year's keynote will be given by Kai Roberts, "Escape: Overcoming Anxiety and Intrusive Thoughts." Kai tells the story of overcoming the panic attacks and generalized anxiety disorder that he struggled with in college. Kai talks deeply about the origins of his anxiety, the symptoms he experienced, and the nature of his paralyzing intrusive thoughts. The presentation concludes with Kai explaining his road to recovery and an inspiring message for those who may be struggling with something similar. This is a refreshingly personal and at times uncomfortable presentation that speaks to many issues young people deal with today.
---
Download the 2023 Story County Mental Health Expo Resource Guide here.
Check out the Story County Mental Health Expo on Facebook by clicking here.