Seeking Justice When a Teenage Victim Fights Back: A Case of Strength and Courage
Speaker:
Matthew Sheeley, Paul White, Magdalena Reese
Co-sponsors:
Department of Sociology and Criminal Justice
Phi Alpha Delta Law Fraternity
Pre-Law Club
Committee on Lectures (funded by Student Government)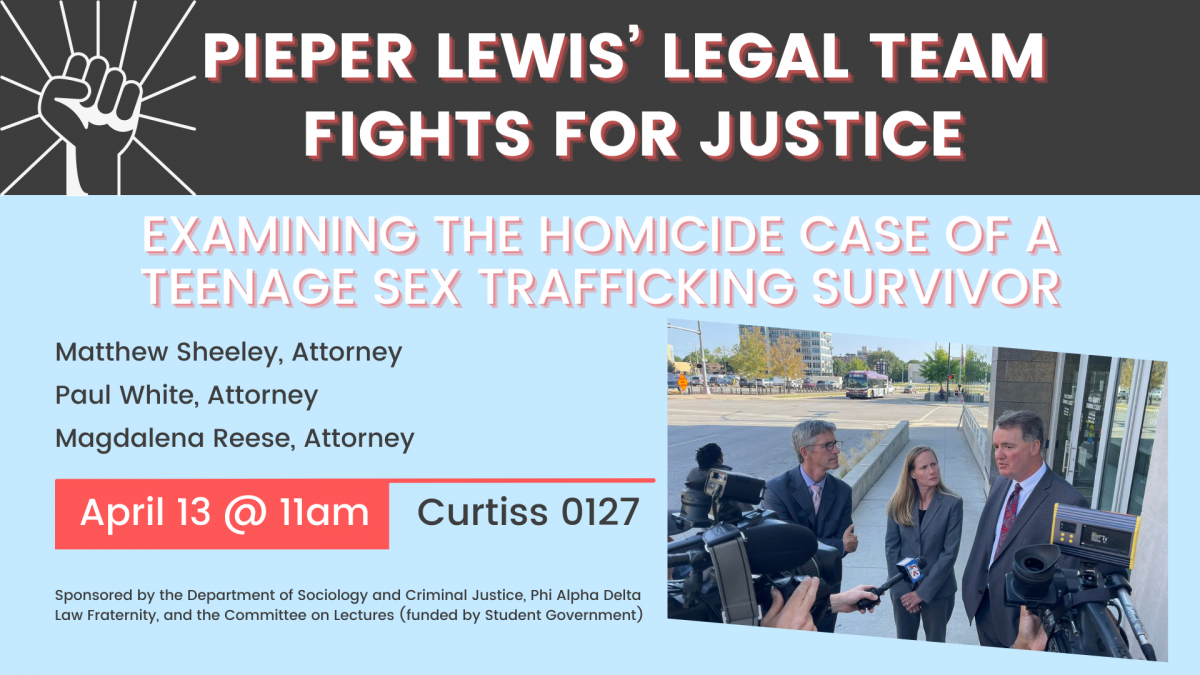 Pieper Lewis was 15 when she fatally stabbed her rapist, Zachary Brooks (37 years-old), more than 30 times in June 2020 in a Des Moines apartment. She pleaded guilty in June 2021 to voluntary manslaughter and willful injury. Pieper's legal team, led by Assistant State Public Defenders Matthew Sheeley, Magdalena Reese, and Paul White, worked tirelessly to seek justice for Pieper who faced up to 20 years in prison and a felony record for killing the man who abused, sexually assaulted, and trafficked her as a juvenile. Polk County District Judge David Porter sentenced Pieper to 5 years of probation at the Fresh Start Women's Center in Des Moines (a transitional facility for women), a deferred judgment (allowing for expungement of Lewis' criminal record), and ordered her to pay $150,000 in restitution to Brooks' family. Mr. Sheeley, Mr. White, and Ms. Reese will discuss their handling of Pieper's case, the defenses available to Pieper in the event of trial, the current of Pieper's case, and the public policy implications of punishing individuals who commit criminal acts that are directly related to their status as victims of human trafficking.