Seed Sovereignty: Who Owns the Seeds of the World, Bio-Piracy, Genetic Engineering and Indigenous Peoples
Co-sponsors:
Graduate Program in Sustainable Agriculture
Committee on Lectures (funded by Student Government)
College of Agriculture and Life Sciences Diversity Committee
American Indian Studies Program
Department of World Languages and Cultures
Department of Political Science
Department of Horticulture
Department of Community and Regional Planning
Department of Sociology and Criminal Justice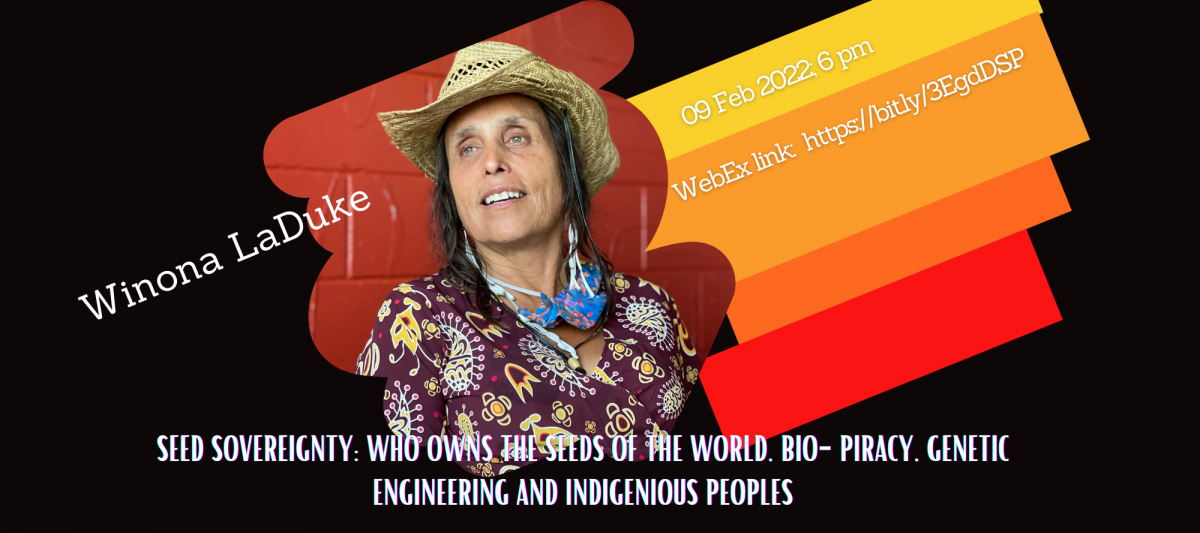 Recording Link: https://iastate.hosted.panopto.com/Panopto/Pages/Viewer.aspx?id=c5076691-49ab-42f0-bc92-ae3801114e42
Winona LaDuke is a Harvard-educated economist, environmental activist, author, hemp farmer, grandmother, and a two-time former Green Party Vice President candidate with Ralph Nader. LaDuke specializes in rural development, economic, food, and energy sovereignty and environmental justice. Living and working on the White Earth reservation in northern Minnesota, she leads several organizations including Honor the Earth (co-founded with The Indigo Girls 28 years ago), Anishinaabe Agriculture Institute, Akiing, and Winona's Hemp. 
These organizations develop and model cultural-based sustainable development strategies utilizing renewable energy and sustainable food systems. She is also an international thought leader and lecturer in climate justice, renewable energy, and environmental justice, plus an advocate for protecting Indigenous plants and heritage foods from patenting and genetic engineering. She has written seven books including, Recovering the Sacred, All Our Relations, Last Standing Woman, The Winona LaDuke Chronicles, and her newest work, To Be A Water Protector: The Rise of the Wiindigo Slayers.