To Save America, Wokeness Must Be Destroyed
Co-sponsors:
Young Americans for Freedom at Iowa State University
Committee on Lectures (funded by Student Government)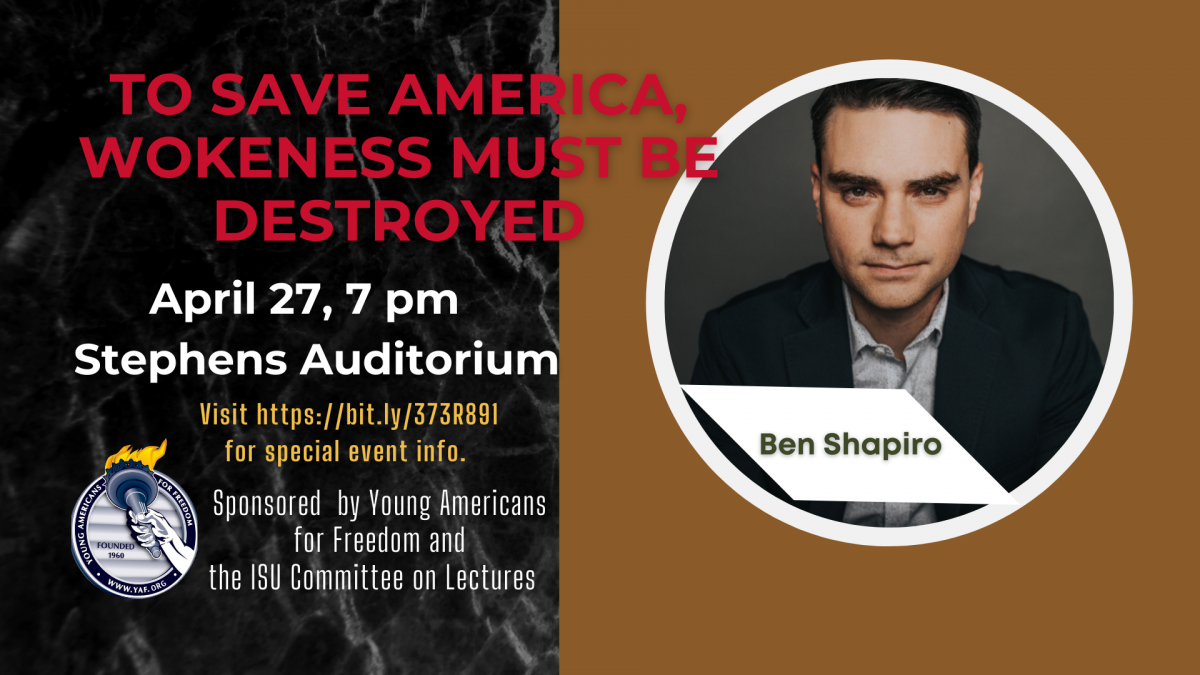 The event recording is on Youtube: https://www.youtube.com/watch?v=U01qvDYQfKk
This event is free, open to the public, and does not require a ticket for entrance.
Doors open at 6pm.The first 11 rows (500 seats) will be reserved for ISU students until 6:40pm; show your ISU student ID at the SE or SW Tower doors to enter. The general public may enter through the North Doors.
No bags will be permitted. Small bags for medical supplies and diaper bags will be permitted but will be searched before entry.
No picket signs, banners, or other materials that could block views or be used as a weapon will be permitted.
Ben Shapiro is founding editor-in-chief and editor emeritus of The Daily Wire and host of "The Ben Shapiro Show," the top conservative podcast in the nation. Shapiro is the author of numerous nonfiction books, including The New York Times #1 Bestseller The Right Side of History: How Reason and Moral Courage Made the West Great (HarperCollins, 2019), New York Times Bestsellers Bullies: How the Left's Culture of Fear and Intimidation Silences America (Simon & Schuster, 2013), and How to Destroy America in Three Easy Steps (HarperCollins, 2020), and national bestseller Brainwashed: How Universities Indoctrinate America's Youth (WND Books, May 2004). Shapiro was hired by Creators Syndicate at age 17 to become the youngest nationally syndicated columnist in the U.S. He earned a BA in Political Science from UCLA in 2004 and graduated from Harvard Law School in 2007. After working as an attorney for Goodwin Procter LLP, Shapiro began his own legal consulting firm, Benjamin Shapiro Legal Consulting (Los Angeles).
This event is sponsored in part by the Young America's Foundation's Fred and Lynda Allen Series.