Poetry as a Wedge into the World
South Ballroom, Memorial Union
Co-sponsors:
Pearl Hogrefe Fund
Humanities Iowa
MFA Program in Creative Writing and Environment
Department of English
Sketch Magazine
Committee on Lectures (funded by Student Government)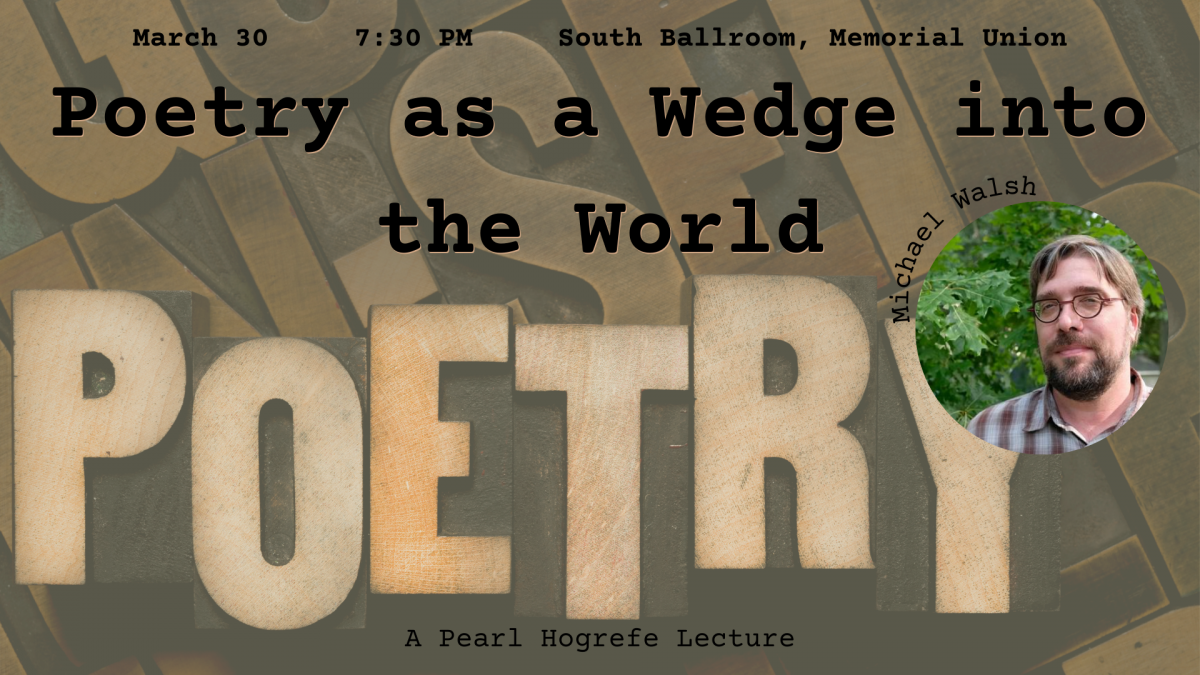 NOTE: DUE TO WEATHER, THESE EVENTS WERE MOVED FROM FEBRUARY 22. UPDATED INFORMATION IS BELOW:
A Pearl Hogrefe Lecture
Michael Walsh received his BA in English from Knox College and his MFA in Creative and Professional Writing from the University of Minnesota – Twin Cities. He is the editor of Queer Nature: A Poetry Anthology (Autumn House, May 2022). His poetry books include Creep Love (Autumn House Press, Lambda Finalist), The Dirt Riddles (University of Arkansas Press), and two chapbooks, Adam Walking the Garden and Sleepwalks (Red Dragonfly Press). His poems and stories have appeared in journals such as Alaska Quarterly Review, The Chattahoochee Review, Cimarron Review, Crab Orchard Review, Great River Review, The Journal, North Dakota Quarterly, and Prairie Schooner. After residing in Minneapolis for more than two decades, Michael now lives in a valley among coulees and springs in the Driftless region of southwest Wisconsin, where his eco-queer and literary teachings are taking shape. 
Special pre-event: Queer Ecology: A Moderated Conversation on Creativity, Craft, and Editing
From 2-3pm in the Oak Room, join this discussion of craft as Michael Walsh sits down with ISU poet Zoe Fay-Stindt to discuss his writing process and his recent work assembling Queer Nature, an anthology that  amplifies and centers LGBTQIA+ voices and perspectives in a collection of contemporary nature poetry. This groundbreaking anthology showcases  over two hundred queer writers from the nineteenth to the twenty-first century, offering a new context for the canon of poetry about the natural world.   Moderator: Zoe Fay-Stindt