Personal Reflections on the War in Ukraine
Speakers:
Svitlana Zbarska, Lesya Myroslavivn Hassall, Nancy Brannaman, ​​​​​​​Vitalij Pecharsky
Co-sponsors:
ISU Fulbright Association
Iowa Fulbright Association
Committee on Lectures (funded by Student Government)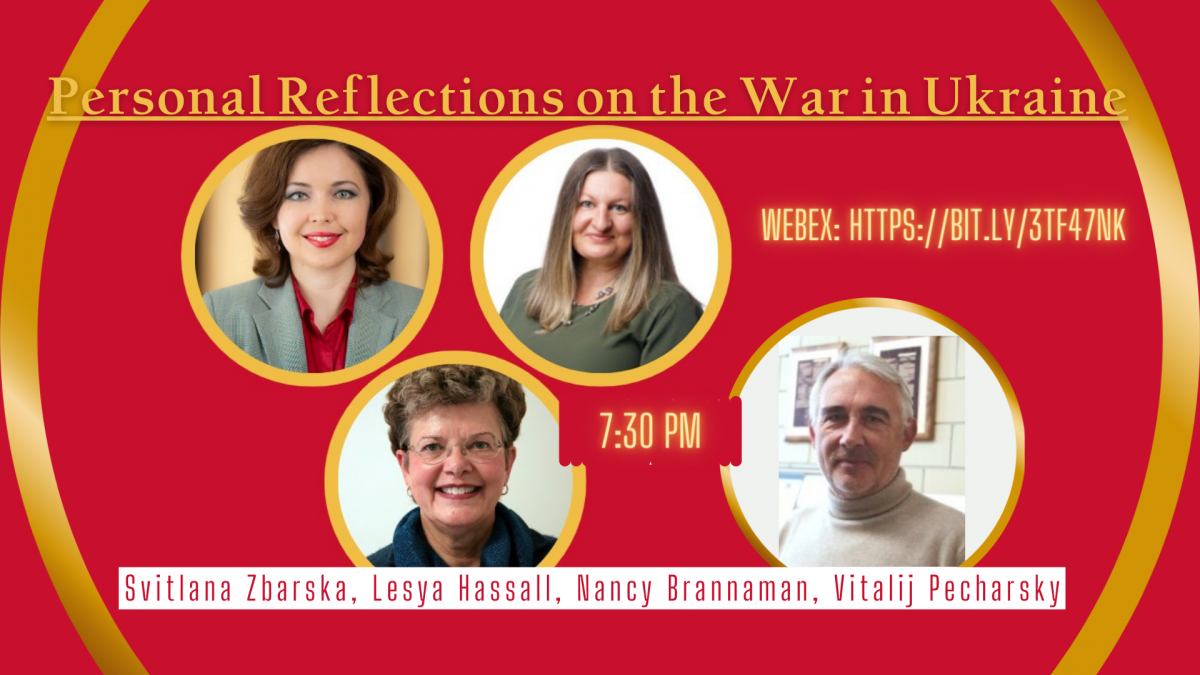 This event has been recorded. The recording is posted on the Lectures website at Recordings > Available Recordings for two weeks.
https://iastate.hosted.panopto.com/Panopto/Pages/Viewer.aspx?id=a136a506-d894-4cce-8854-ae62013dec8c
The war on Ukraine has brought suffering and death to its people. The whole world has watched as Russia attacks infrastructure, civilians, and nuclear power plants. Russia is growing increasingly isolated as financial institutions, businesses, and cultural entities cut ties with the country. The possibility of nuclear war and the effects on the world economy have shaken many. This panel will focus on the impacts the war is having on Ukranian-Americans and those who have worked in Russia.
Panelists: 
Dr. Lesya Hassall graduated from one of the Ukrainian oldest and most prestigious universities Nizhyn Gogol State University, with a Master's degree in teaching English and German as second languages. She taught in Muckachiv Technological Institute and Nizhyn State University before coming to Iowa State University, where she earned her doctoral degree in Curriculum and Instructional Technology. Lesya has been employed by the Center for Excellence in Learning and Teaching (CELT) since 2006, and known for her expertise in instructional technologies and digital pedagogies. She leads CELT Course Design Institute, an award-winning four-day interactive event that creates space and time for ISU's instructors to design and develop quality online and blended courses.  Her service to the academic community was recognized by ISU's COVID-19 Excellence in Instructional Support Award in 2020 and Regents Award for Staff Excellence in 2021.
Dr. Svitlana Zbarska manages programs that promote research opportunities for undergraduate students across Iowa State University campus. In this role, Dr. Zbarska coordinates campus-wide undergraduate research (UR) programs and initiatives such as Undergraduate Research Ambassador program,  Research Seminars for Undergraduate Students, the First-Year Honors Mentor Program, ISU Annual Undergraduate Symposium on Research and Creative Expression, Research in the Capitol, and the Summer REU Symposium. Dr. Zbarska teaches several pre-research courses, runs multiple workshops and professional development seminars about involvement in UR and getting the most out of your UR experiences. Dr. Zbarska is a recipient of multiple research and professional awards. Dr. Zbarska is a member of the Council on Undergraduate Research and Goldwater National Undergraduate Award Committee. Dr. Zbarska received her Ph.D. in Neuroscience with Excellence in Research from Iowa State University in 2007. After that she was a leading scientist on several research projects at the Department of Biomedical Sciences and the Department of Genetics and Cell Biology at ISU. One of her research projects was focused on understanding a neurological pathway for the implicit type of memory. Another targeted peripheral nerve regeneration using transdifferentiated adult stem cells. Dr. Zbarska is originally from Ukraine where she received her BS in Physics and MS in Biophysics with Honors from the Shevchenko National University, Kiev, Ukraine. Dr. Zbarska is passionate about encouraging and advocating for undergraduate students' research experiences.
Nancy B. Brannaman (BS Ag Business/Farm Operation, MS Ag Economics/Finance, ISU) is an accomplished business manager and mentor who has worked in nine countries and Iowa in financial management, human resources, logistics, contracting, marketing, financial analysis, and general management.  Nancy recently completed a successful career with the U.S. Department of State as a Foreign Service Officer specializing in management. Nancy joined the Foreign Service in 2000 and served as a Consular Officer in Kyiv, Ukraine; Supervisory General Services Officer in Baku, Azerbaijan; HR and Financial Management Officer in Tashkent, Uzbekistan; Management, HR and Financial Management Officer in Tirana, Albania, and Management Officer in the newest embassy in the world – Juba, South Sudan.  In 1992-93, Nancy and her husband worked for the State of Iowa in a project managed by ISU CARD in Kakhovka, Kerson Region, north of Crimea.  They were Co-Managers of the US-Ukraine Agribusiness Center, a joint venture designed to showcase Iowa and US agribusiness products.  Nancy and her family landed in Ukraine about 6 months after the country declared its independence from the Soviet Union – landing before Ukraine had selected a flag and national anthem.  In the fall of 1993, they moved to Russia and worked two years for Land 'O Lakes on a USAID-funded project 5 hours southwest of Moscow.  They worked with 600 private farmers to develop cooperatives and a farmer-member organization, like Farm Bureau.
Dr. Vitalij Pecharsky was born in Lviv, Ukraine. He graduated with a BS/MS degree in Chemistry from the University of Lviv (presently Ivan Franko National University of Lviv)  – one of the oldest institutions of higher learning in Ukraine dating back to 1661 – in 1976. After receiving a Ph.D. in Inorganic Chemistry in 1979, he held appointments as an Assistant and then Associate Professor at the Department of Inorganic Chemistry at the University of Lviv between 1979 and 1993. In April of 1993, he came to Ames as a Visiting Scientist at the U.S. Department of Energy Ames Laboratory, becoming a staff member in 1995.  In 1998 he accepted a position as an Associate Professor at the Department of Materials Science and Engineering, was promoted to a Full Professor in 2000, and named an Anson Marston Distinguished Professor of Engineering in 2006. Vitalij is also a Faculty Scientist, a Principal Investigator, a Field Work Proposal Leader, and a Group Leader at the U.S. DOE Ames Laboratory.