One Woman's Journey: From a Kenyan Village School to an American University
Co-sponsors:
Women's Week 2021
Committee on Lectures (funded by Student Government)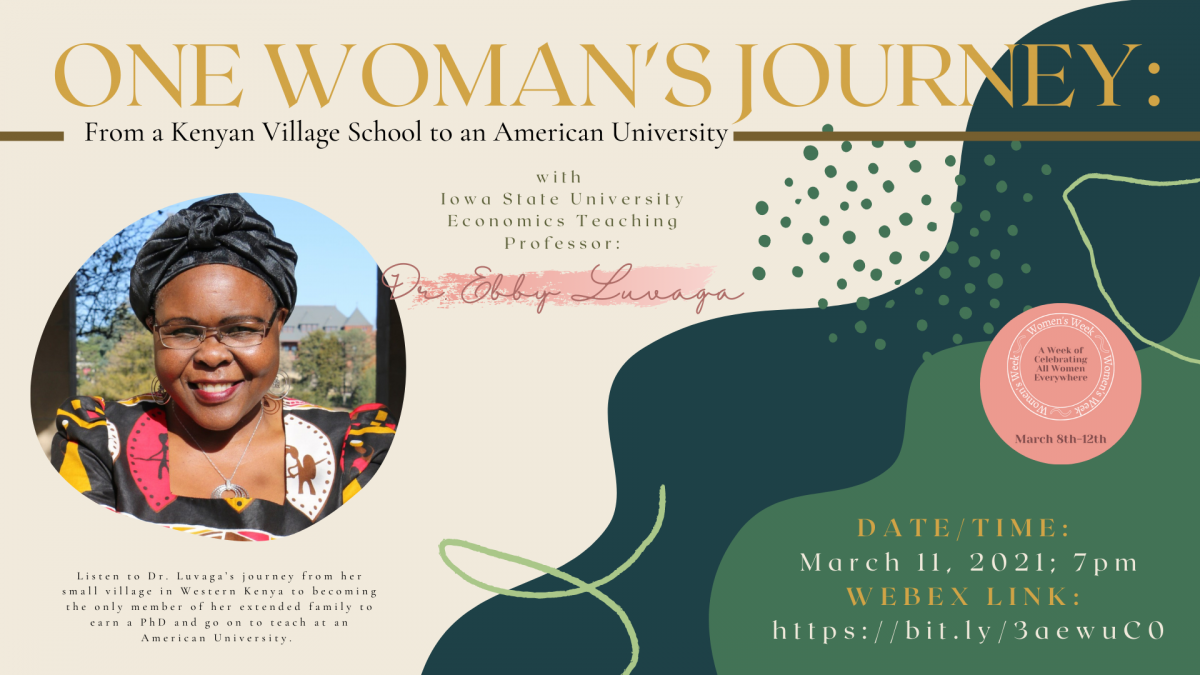 Recording Link: https://iastate.hosted.panopto.com/Panopto/Pages/Viewer.aspx?id=ec8ab0fa-2e80-4256-a8cd-ace90158e0ff
Dr. Ebby Luvaga was born and raised in rural Kenya. The presentation will walk the audience through Dr. Luvaga's journey from her small village in Western Kenya to becoming the only member of her extended family to earn a PhD and go on to teach at an American University. Through that journey Dr. Luvaga will share her perspective on gender and development across the globe.
Ebby Luvaga is a Teaching Professor in the Department of Economics at Iowa State University, and also serves as the Coordinator for Undergraduate Advising. She plays significant roles in the department's three undergraduate programs, focusing on activities related to advising, recruitment and retention, teaching, and administration. She has been involved in leading student study abroad programs for over 20 years.
Luvaga is very passionate about issues of gender in development. She has worked with smallholder farmers (majority women) in Uganda and Mozambique. Ebby continues to be actively engaged in her rural community in Western Kenya, where she built a public library in honor of her parents who were long time educators and role models. Luvaga earned her doctorate degree in Economics Education, and master's degree in International Affairs both at Ohio University, in Athens, Ohio. Her bachelor's degree in Business Administration was at Berea College, in Berea, Kentucky. Women's Week 2021