Nothing Is Too Big to Fail
Speakers:
Kerry and Linda Killinger
Co-sponsors:
Committee on Lectures (funded by Student Government)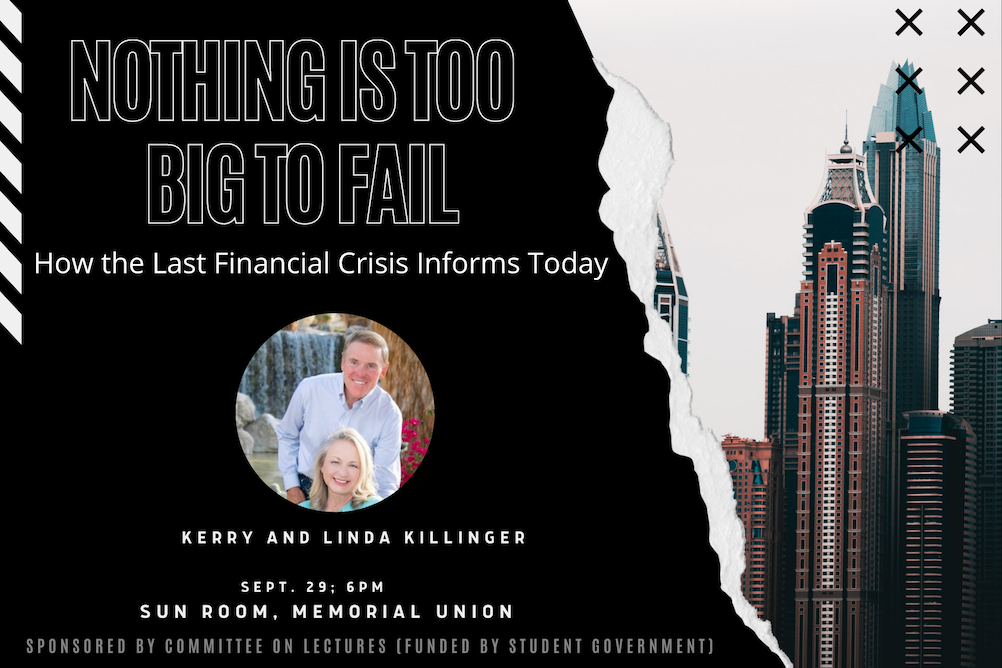 Recording Link: https://iastate.hosted.panopto.com/Panopto/Pages/Viewer.aspx?id=a8b5af34-6e52-426f-9953-ada500eb0153
Kerry Killinger was the chairman, president and CEO of Washington Mutual Bank, the sixth largest depository bank in the country prior to the financial crisis of 2008. He graduated with a BBA with honors and an MBA from the University of Iowa. He is a chartered financial analyst (CFA) and a fellow in the Life Management Institute. He was chair of the National Education summit of Achieve and American Banker's Banker of the year, received President George H.W. Bush's Points of Light Award for his philanthropy, was vice chair and chair-elect of the Financial Services Roundtable, vice chair and chair-elect of the Federal Reserve's Thrift Industry Advisory Council, and was vice chair of the Federal Home Loan Bank of Seattle. He was elected to the American Society of Corporate Executives. He is currently the CEO of Crescent Capital. 
Linda Killinger was vice chair of the Federal Home Loan Bank of Des Moines and chair of its audit/finance committee. She was also a consulting partner in an international accounting firm specializing in strategic planning and merger/acquisitions for financial institutions. She was the publisher and editor of Overseas Business magazine. Prior to that she was appointed by Governor Robert D. Ray as the director of administration for the Iowa Department of Human Services, which included the prison system, mental health hospitals, AFDC and other human service programs. She was appointed by Governor Tom Vilsack to chair his Committee for a Comprehensive Housing Strategy for Iowa. She has a bachelor of science degree from Iowa State University, an MBA from Drake University, and completed additional graduate work at the Kellogg Graduate School of Management. She currently is the CEO of Olympic Consulting. 
In 2002, Linda and Kerry founded the Kerry and Linda Killinger Foundation which has the mission of public policy reform and social and racial justice, building community and access to the arts.