Moonshot Science for Climate Change and Food
Great Hall, Memorial Union
Co-sponsors:
Office of the President
Nutritional Science Council
College of Agriculture and Life Sciences
College of Human Sciences
College of Liberal Arts and Sciences
Seed Science Center
Committee on Lectures (funded by Student Government)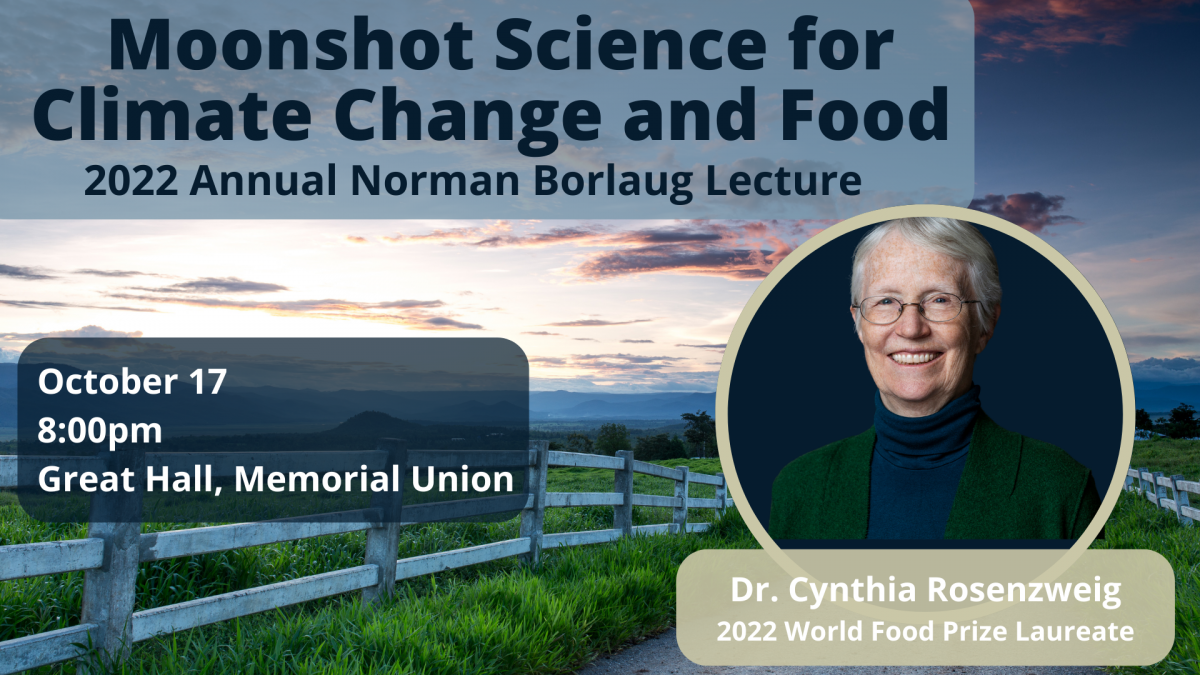 Norman Borlaug Lecture featuring 2022 World Food Prize Laureate Dr. Cynthia Rosenzweig
Climate change cannot be restrained without attention to food system emissions. At the same time, food security for all cannot be provided without resilience to increasing climate extremes. Moonshot science is needed to provide the breakthroughs to respond to these dual challenges.
Dr. Cynthia Rosenzweig of the United States will receive the 2022 World Food Prize for her seminal contributions to understanding and predicting the impacts of the interaction between climate and food systems. Through designing and leading rigorous, collaborative observational and modeling research, she provided the evidence used by thousands of decision-makers in more than 90 countries to both mitigate and adapt to climate change in local, national and global food systems. Now a Senior Research Scientist and head of the Climate Impacts Group at the Goddard Institute for Space Studies (GISS), part of NASA's Goddard Space Flight Center, Rosenzweig started her career as a farmer.
The 19th Annual Norman Borlaug Lectureship Poster Competition will be held immediately preceding the lecture from 7-8pm in the South Ballroom and the winners will be announced after the lecture.

This event was recorded and will be available for two weeks on the Lectures website at https://www.lectures.iastate.edu/recordings/available-recordings