Meatpacking America: How Migration, Work, and Faith Unite and Divide the Heartland
Co-sponsors:
Philosophy and Religious Studies
Committee on Lectures (funded by Student Government)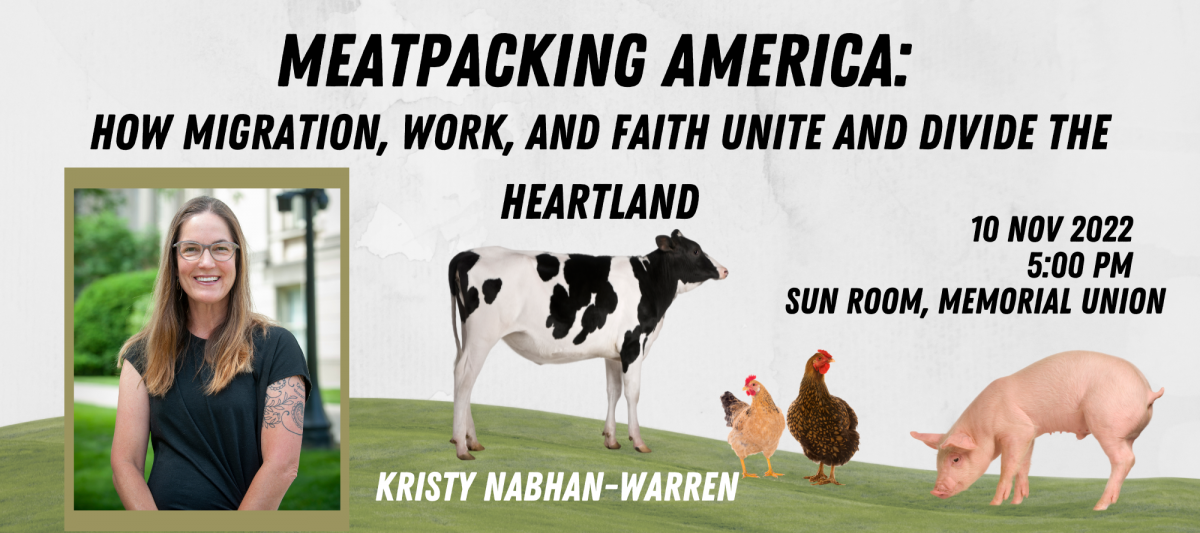 Whether valorized as the Heartland or derided as flyover country, the Midwest became instantly notorious when COVID-19 infections skyrocketed among workers in meatpacking plants. Native Midwesterner Kristy Nabhan-Warren spent years interviewing Iowans who work in the meatpacking industry, both native-born residents and recent migrants from Latin America, Africa, and Asia. In Meatpacking America, she digs deep below the stereotype and reveals the grit and grace of a heartland that is a major global hub of migration and food production—and also, it turns out, of religion. Across the flatlands, Protestants, Catholics, and Muslims share space every day as worshippers, employees, and employers. These new and old Midwesterners say that a mutual language of faith and morals brings them together more than any of them would have ever expected.
Kristy Nabhan-Warren is the V. O. and Elizabeth Kahl Figge Chair of Catholic Studies and a professor in the Departments of Religious Studies and Gender, Women's, and Sexuality Studies at the University of Iowa. Nabhan-Warren is the author of three books and the founding editor of the Where Religion Lives book series from the University of North Carolina Press.
This event was recorded and will be available for two weeks on the Lectures website at https://www.lectures.iastate.edu/recordings/available-recordings