From Jazz Ambassadors to the Simpsons: How Cultural Diplomacy Breaks Political Barriers and Stereotypes
Co-sponsors:
Iowa State Center
Ames International Orchestra Festival Association
Iowa Arts Council
National Endowment for the Arts
Committee on Lectures (funded by Student Government)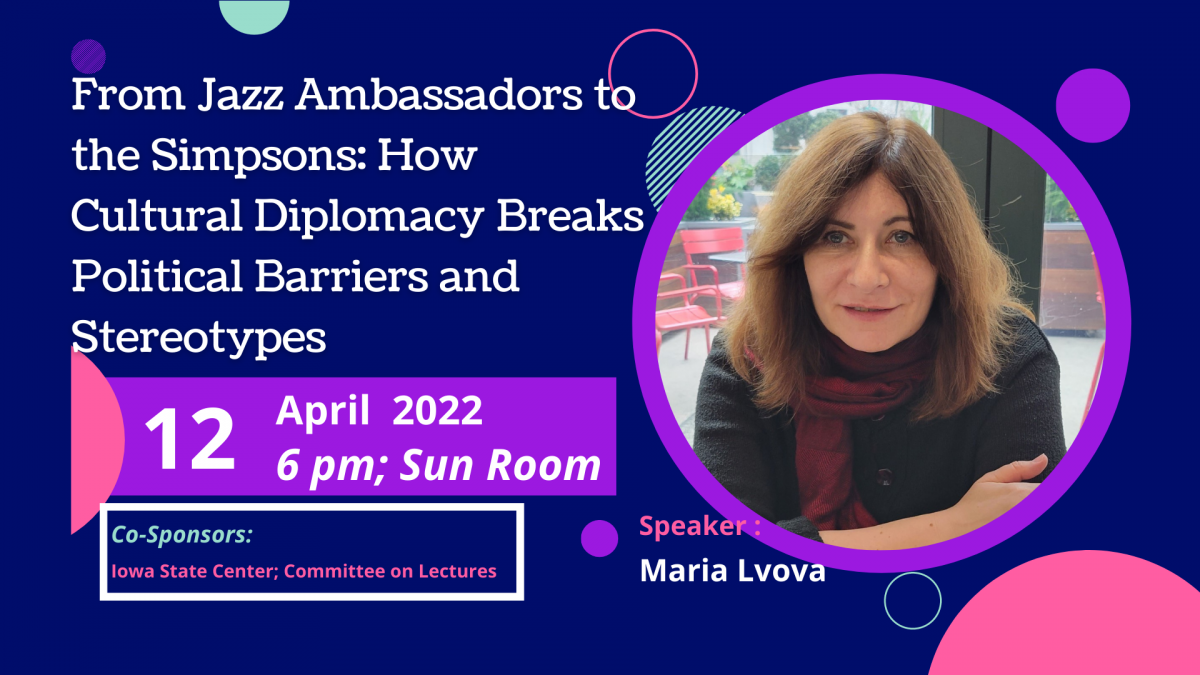 Recording Link: https://iastate.hosted.panopto.com/Panopto/Pages/Viewer.aspx?id=60185ddc-79e7-4be0-9e64-ae76014d163a
Cultural diplomacy is an intercultural sharing that appeals directly to the citizens of different nations through the work of musicians, dancers, artists, writers and filmmakers. It has been, and continues to be, an important part of public understanding between the people of the United States and Russia. The objective of this lecture is to illustrate how, over the years, cultural diplomacy has played an invaluable role in bringing the people of both nations together by helping break down stereotypes, produce better understanding and to build a common humanity.
Maria Lvova is the Program Officer for Education, Exchanges, & Community Building with the US Russia Foundation; she provides guidance to applicants and monitors and evaluates USRF programs in the areas of Russian and American Studies, and Civil Society. Lvova was previously an editor and producer for Voice of America's Russian Service. From 1995 to 2017 she served as a Cultural Specialist in the Public Affairs Section of the U.S. Embassy in Moscow. During her time at the Embassy, she oversaw educational and cultural exchanges, was involved in the US diplomatic mission public relations activities, worked at summits, organized festivals and conferences and arranged the Russian visits of hundreds of important American cultural personages. 
This lecture is supported by Ames International Orchestra Festival Association through support provided by the Iowa Arts Council, a division of the Iowa Department of Cultural Affairs, and the National Endowment for the Humanities: Exploring the Human Endeavor.