High on the Hog: How African American Cuisine Transformed America
Great Hall, Memorial Union
Co-sponsors:
Culinary Science Club
University Library
Pat Miller Fund
Food Science and Human Nutrition Department
Multicultural Student Affairs
College of Liberal Arts and Sciences
History Department
Committee on Lectures (funded by Student Government)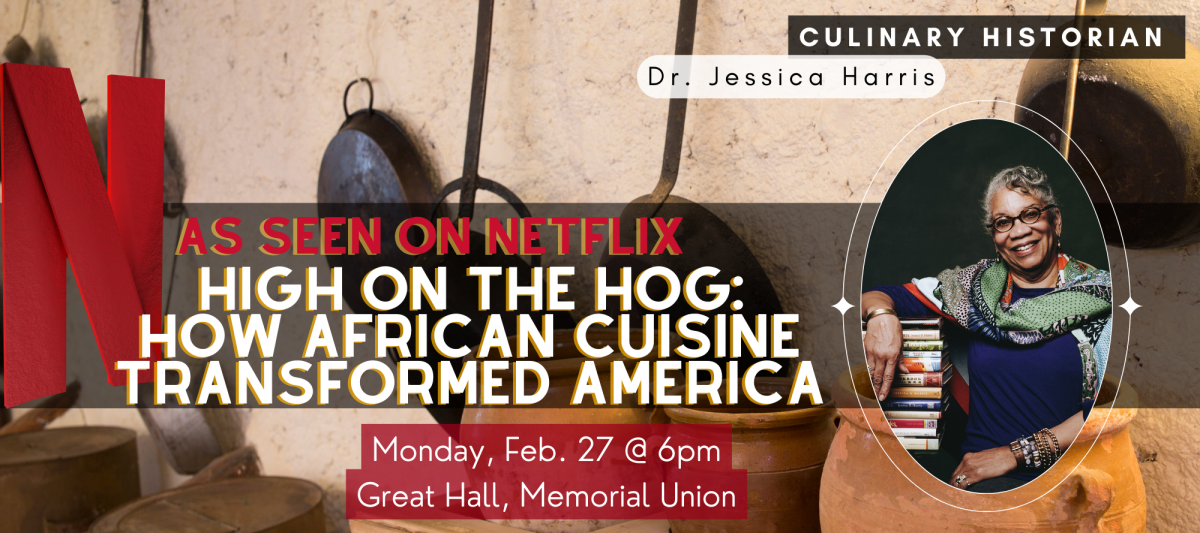 Jessica B. Harris is considered by many to be one of the ranking authorities on the food of the African Diaspora. A New York Times bestselling author, she is the author, editor, or translator of eighteen books, including twelve cookbooks documenting the foodways of the African Diaspora. Her award-winning book, High on the Hog, was the basis for the acclaimed Netflix series of the same name.
She has lectured widely and written extensively for scholarly and popular publications. Harris consults internationally, is leading the Culinary Institute of America's team to establish an African Diaspora concentration, and worked with the Smithsonian Museum of African American History and Culture conceptualizing its cafeteria.
Dr. Harris holds degrees from Bryn Mawr College, Queens College/CUNY, The Université de Nancy, France, and New York University. She was granted an honorary doctorate of humane letters from Johnson & Wales University and holds numerous awards and accolades. In 2019, Harris's books were inducted into the James Beard Cookbook Hall of Fame and she was the 2020 James Beard Lifetime Achievement awardee. She was named to the 2021 TIME Most Influential People list. Dr. Harris was a professor at Queens College/CUNY in New York for five decades and is currently professor emerita at that institution.
The ISU Book Store will be at the event selling copies of Harris' book.
This event was recorded and will be available to view for two weeks at https://www.lectures.iastate.edu/recordings/available-recordings