George Washington Carver Day of Recognition Program
Great Hall, Memorial Union
Co-sponsors:
College of Agriculture and Life Sciences
Office of the President
Tuskegee University
Simpson College
U.S. Department of Agriculture
Committee on Lectures (funded by Student Government)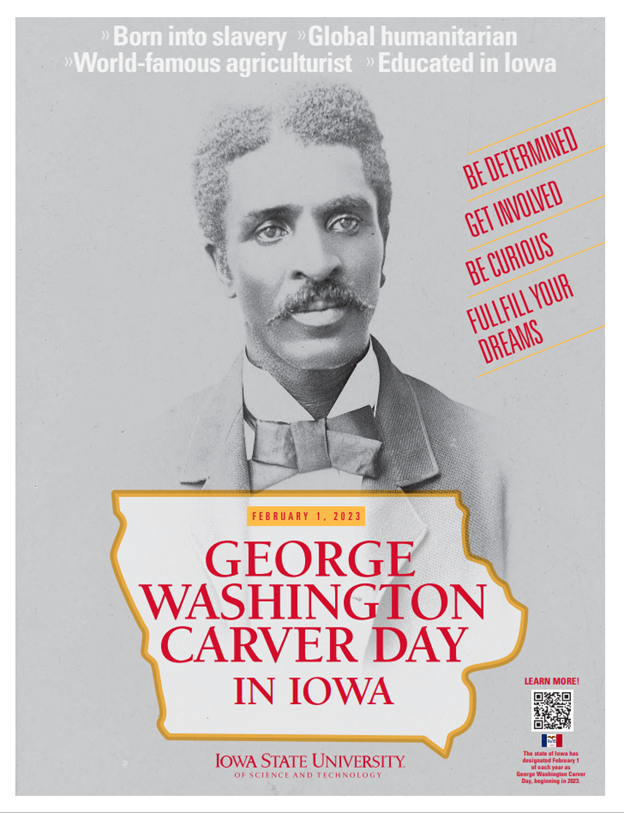 Celebrate Iowa's first George Washington Carver Day of Recognition!
This program will feature notable speakers including:
Dr. Kenneth M. Quinn, former U.S. ambassador to Cambodia and president emeritus of The World Food Prize Foundation
Dr. Dan Robinson, dean of ISU's College of Agriculture and Life Sciences
Dr. Wendy Wintersteen, ISU President
Dr. Olga Bolden-Tiller, dean of Tuskegee University's College of Agriculture, Environment, and Nutrition Sciences
Marsha Kelliher, president of Simpson College
Dewayne Goldmon, senior advisor for racial equity to U.S. Secretary of Agriculture
Simon Estes, internationally renown opera singer and the F. Wendell Miller Distinguished Artist in Residence at ISU's Department of Music and Theatre
A free and open reception will be begin at 5pm with foods inspired by Dr. Carver.
The program will begin at 5:30pm and conclude at 7pm with free ice cream from ISU Creamery.
To watch the livestream of the event, click here.
This event will be recorded and available for two weeks on the Lectures website at https://www.lectures.iastate.edu/recordings/available-recordings Please allow 2-3 days for the Lecture to be edited, captioned and posted.
To access maps and directions to the Memorial Union, visit: https://www.mu.iastate.edu/parking--maps/maps--directions/
For information about parking in the Memorial Union parking ramp, visit: https://www.mu.iastate.edu/parking--maps/parking/