Gardening Can Be Murder: How Poisonous Poppies, Sinister Shovels, and Grim Gardens Have Inspired Mystery Writers
Garden Room, Reiman Gardens
Co-sponsors:
Reiman Gardens
Culture Buzz
Committee on Lectures (funded by Student Government)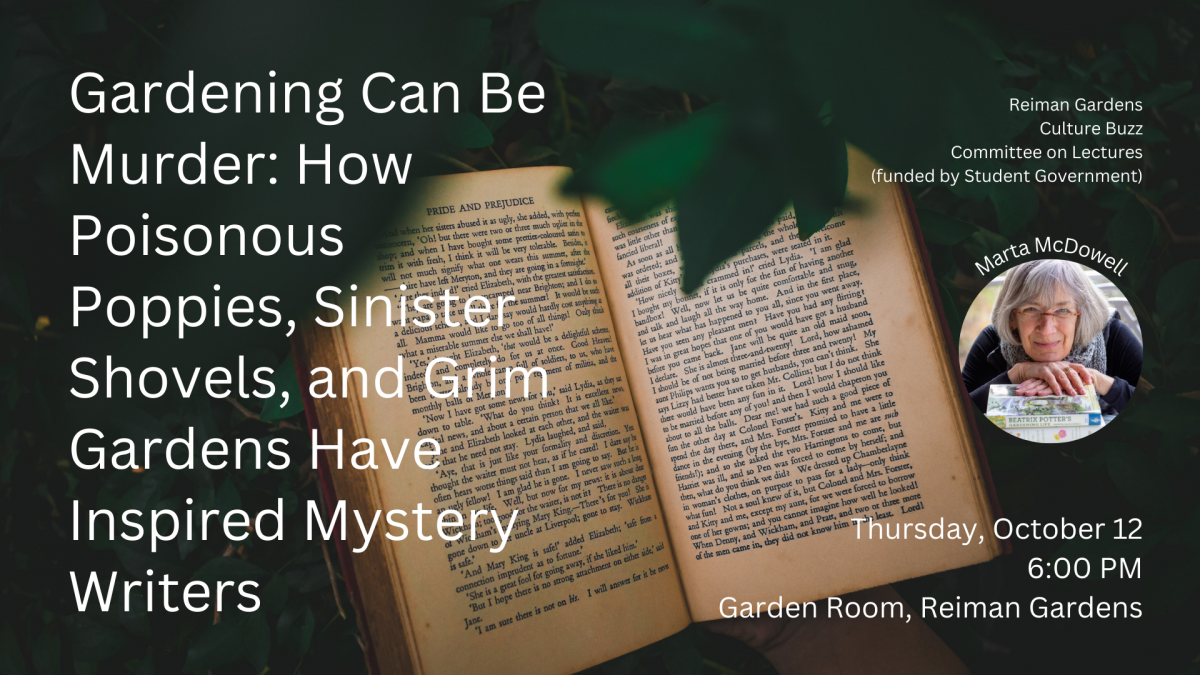 With their deadly plants, razor-sharp shears, shady corners, and ready-made burial sites, gardens make an ideal scene for a murder mystery. Flora and horticulture have had an outsize influence on the genre: motive, means, opportunity, victims, villains, and detectives. Join Marta McDowell, a writer, gardener, and avid mystery reader, in exploring the many ways in which writers—from Edgar Allen Poe and Wilkie Collins to Agatha Christie and some of today's top crime fiction authors—have found inspiration in the sinister side of gardening.
Friendly folks from Dog-Eared Books will also have copies of Marta's new book, Gardening Can Be Murder: How Poisonous Poppies, Sinister Shovels, and Grim Gardens Have Inspired Mystery Writers for attendees to purchase. A portion of each sale will benefit Reiman Gardens.
Marta McDowell teaches landscape history and horticulture at the New York Botanical Garden and consults for private clients and public gardens. Her latest book is Unearthing The Secret Garden, about the inspiration for the classic children's book. Timber Press also published Emily Dickinson's Gardening Life, The World of Laura Ingalls Wilder, New York Times-bestselling All the Presidents' Gardens, and Beatrix Potter's Gardening Life, now in its eighth printing. Marta's new book about garden themes in murder mysteries, is due out from Timber Press in 2023. She was the 2019 recipient of the Garden Club of America's Sarah Chapman Francis Medal for outstanding literary achievement.
For more information about Marta McDowell, visit https://www.martamcdowell.com
---
Please note: This lecture will not be recorded.