Food Fight: The 14-Year Rebellion Against Food Service at Iowa Agricultural College
Co-sponsors:
Committee on Lectures (funded by Student Government)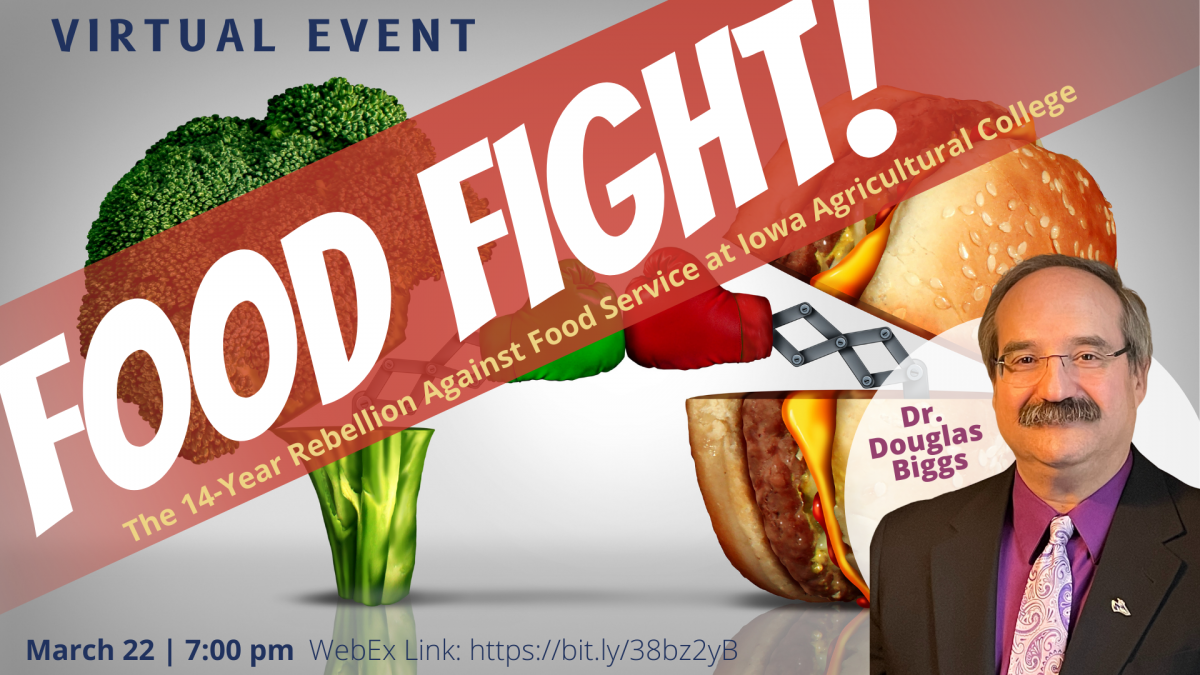 Recording Link: https://iastate.hosted.panopto.com/Panopto/Pages/Viewer.aspx?id=f34dca11-b445-4f3c-84fa-acf400fd7e56
Dr. Doug Biggs will cover a contentious period of ISU's early history: when students bucked requirements to get their food from campus. The battle of wills between the administration and the student body lasted 14 years! Come learn what the issues and the solution were.
Dr. Biggs was born in Ames, Iowa, where his father taught Geology and Earth Science at Iowa State University for his entire career. Dr. Biggs holds a BA and an MA in History from Iowa State University and a Ph. D. from the University of Minnesota. He has written extensively about the political culture of late medieval England, specifically the reigns of Richard II (1377-99) and Henry IV (1399-1413). He regularly presents his research at International Conferences on both sides of the Atlantic. He is also the Managing Series Editor for Late Medieval Europe, a monograph series for Brill Academic Publishers in the Netherlands. In late 2009 Dr. Biggs became interested in the local history of his home town and also his undergraduate alma mater. This has led to several publications, a book, and public lectures on historical subjects in Ames about Ames and Iowa State University.  In Fall 2017 Dr. Biggs received the prestigious Pratt-Heins Foundation Faculty Award for Outstanding Service to the UNK Community in the Area of Research/Scholarship.