Financial Fragility: The Future of Inflation, Interest Rates, and Banking
Speakers:
James Paulsen, Kartik Athreya, Dame DeAnne Shirley Julius
Co-sponsors:
Economics Department
Kerry and Linda Killinger Foundation
Committee on Lectures (funded by Student Government)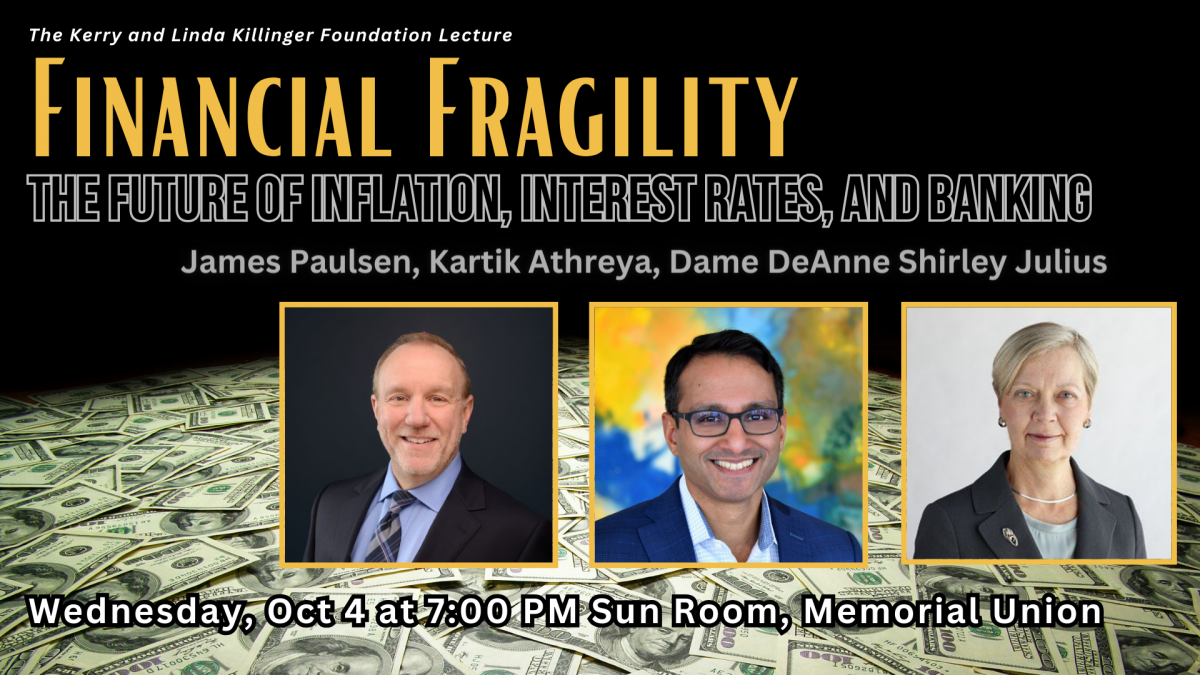 To join the livestream of this lecture, click here. 
This lecture will be recorded, and the recording link will be added here within 36-48 hours after the lecture has finished.
---
Join us for a roundtable discussion about the current economic situation with three esteemed experts.
James Paulsen recently retired as Chief Investment Strategist of The Leuthold Group, LLC. Paulsen has been an investment industry professional since 1983, including working as Chief Investment Strategist at Wells Capital Management where he worked for 20 years. Prior to that, Jim was the senior managing director and Chief Investment Strategist for Investors Management Group in Des Moines, Iowa. He also served as president of SCI Capital Management in Cedar Rapids. For more than 30 years, Jim has published commentary assessing economic and market trends. He is nationally recognized for his views on the economy, frequently appears on CNBC and Bloomberg TV, and is invited to speaking engagements across the country. He has been named a top economic forecaster by Business Week, and Money Magazine called his newsletter one of "101 Things Every Investor Should Know."  Jim earned a Bachelor degree and Doctoral degree in Economics from Iowa State University.
Kartik Athreya is executive vice president and director of research at the Federal Reserve Bank of Richmond. Athreya's work has been published in a variety of academic journals, including the Journal of Monetary Economics, American Economic Journal: Macroeconomics, and International Economic Review. He is also an associate editor at the Journal of Economic Dynamics and Control. In recent years, Athreya has taught a doctoral course in macroeconomics at the University of Virginia and authored a book entitled Big Ideas in Macroeconomics (2013, MIT Press). He earned his doctorate from the University of Iowa and his Bachelor's degree in Economics from Iowa State. Athreya's research interests are in macroeconomics and consumer finance. His current research aims to measure and understand household financial distress and debt repayment decisions, to quantify the links between household investments in human capital and in the stock market, and to assess the importance of risks associated with college enrollment for educational attainment and inequality.
Dame DeAnne Shirley Julius, Commander of the Order of the British Empire (2002) and Dame Commander of the Order of St Michael and St George (2013) is a Distinguished Fellow at Chatham House, formally known as the Royal Institute of International Affairs, where she served as chair from 2003-12. From 2014-19 she was chair of the Council of University College London. Before that, she was a founder member of the Monetary Policy Committee of the Bank of England, a project economist with the World Bank in Washington, and has handled extensive roles in the private sector, including service as chief economist at British Airways and Royal Dutch Shell. She earned a BSc degree in economics from Iowa State University, and an MA and PhD degree in economics from the University of California, Davis. She holds five honorary doctorates, from the University of Warwick, University of Birmingham, South Bank University, University of Bath, and Iowa State University.