Fearless Governance: Using Trust, Empowerment, and Accountability to Lead
Great Hall, Memorial Union
Co-sponsors:
The Office of the Senior Vice President and Provost
Committee on Lectures (funded by Student Government)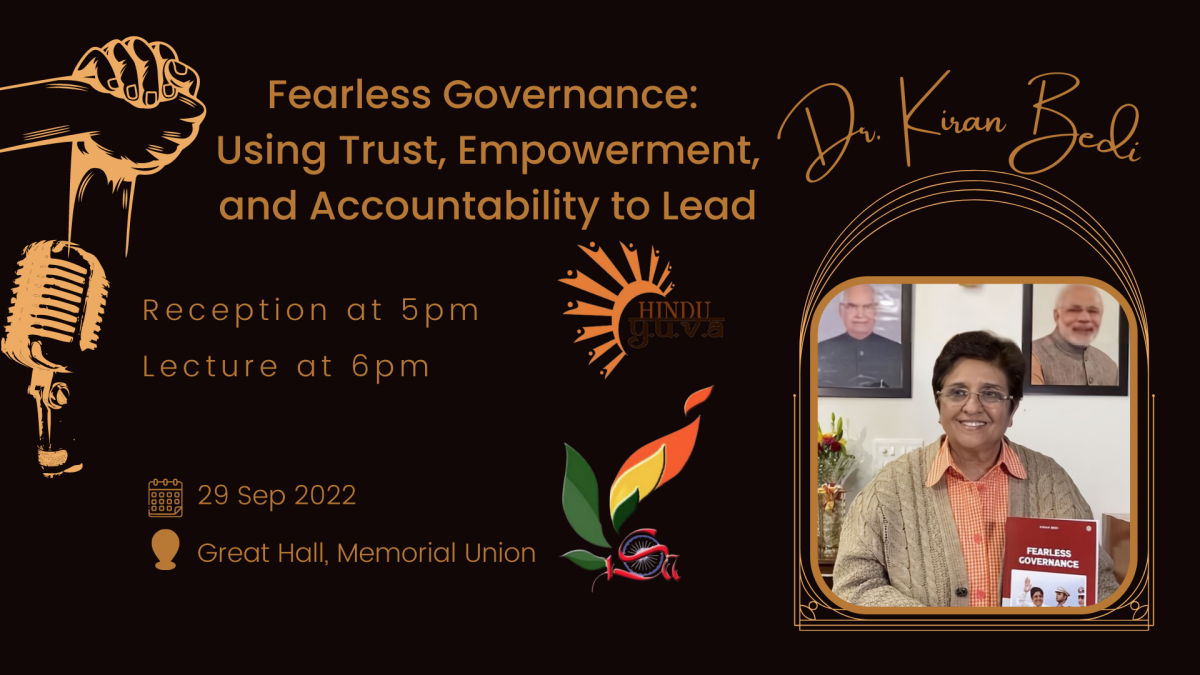 A public reception will begin at 5pm.
Dr. Bedi will speak at 6pm.
Dr. Kiran Bedi is the first woman to have joined the officer ranks of Indian Police Service in1972. She is the 24th Lt Governor of Puducherry and has served the United Nations as Civilian Police Advisor in Peace Keeping Operations. She is PhD from IIT Delhi with a post-doctoral Nehru Fellowship. She is a winner of the Gallantry award from Gov. of Inia, and the Magsaysay Award also known as Asia's Nobel Peace Award.  She also is an Asian tennis champion and has authored several books. She has a biopic on her life called Yes Madam Sir. She founded two Foundations, Navjyoti India Foundation and India Vision Foundation which serve the under privileged in rural, urban areas and in prisons for last 30 years. Her latest book Fearless Governance is based on ground realities as she saw in serving as the Lt Governor Puducherry as released by Ms Indra Nooyi (former CEO Pepsi). They called it a "blue print for Good Governance" cutting across leadership qualities both, in private and public sector.
Video of Gift Exchange: https://iastate.hosted.panopto.com/Panopto/Pages/Viewer.aspx?id=66af9abb-1622-47ae-a306-af230120c0db
Due to a technical issue, there is no recording of Dr. Bedi's talk on Sept. 29, 2022.