Donald R. Benson Memorial Lecture
Co-sponsors:
Center for Excellence in the Arts and Humanities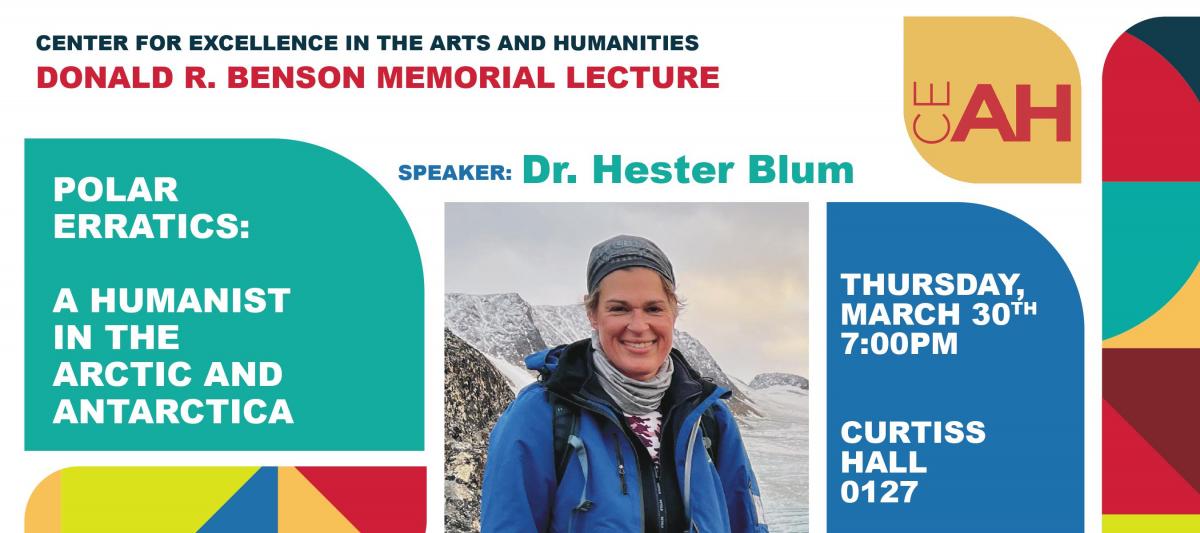 Annual Donald R. Benson Memorial Lecture
Hester Blum is Professor of English at Penn State University. Her new edition of Moby-Dick for Oxford World's Classics was published in 2022, and her other volumes include The News at the Ends of the Earth: The Print Culture of Polar Exploration, which was published by Duke University Press in 2019 and was a finalist for the Ecocritical Book Award from the Association for the Study of Literature and Environment; The View from the Masthead: Maritime Imagination and Antebellum American Sea Narratives (UNC 2008), which received the John Gardner Maritime Research award; the edited collection Turns of Event: Nineteenth-Century American Literary Studies in Motion (Penn 2016); special issues of Atlantic Studies (2013) and the Journal of Transnational American Studies (2019) on oceanic and archipelagic studies; and a scholarly edition of William Ray'sHorrors of Slavery (2008). Blum contributes frequently to Avidly, a channel of the Los Angeles Review of Books. She has participated in several research trips to the Arctic and Antarctica, and her awards include fellowships from the National Endowment for the Humanities and the John Simon Guggenheim Memorial Foundation. In December, 2021 she reached the semifinals of the first-ever Jeopardy! Professors Tournament. 
The Donald R. Benson Memorial Lecture honors Donald Benson, a former Iowa State English professor, who had long-term interest in the relationships among the three intellectual disciplines of literature, science and the arts.
This event will not be recorded through the Lectures Program and will not be available for extra credit.