Dare to Speak, Dare to Listen: Protecting Free Speech on the Frontlines
Co-sponsors:
First Amendment Days
Greenlee School of Journalism
History
Catt Center for Women and Politics
Committee on Lectures (funded by Student Government)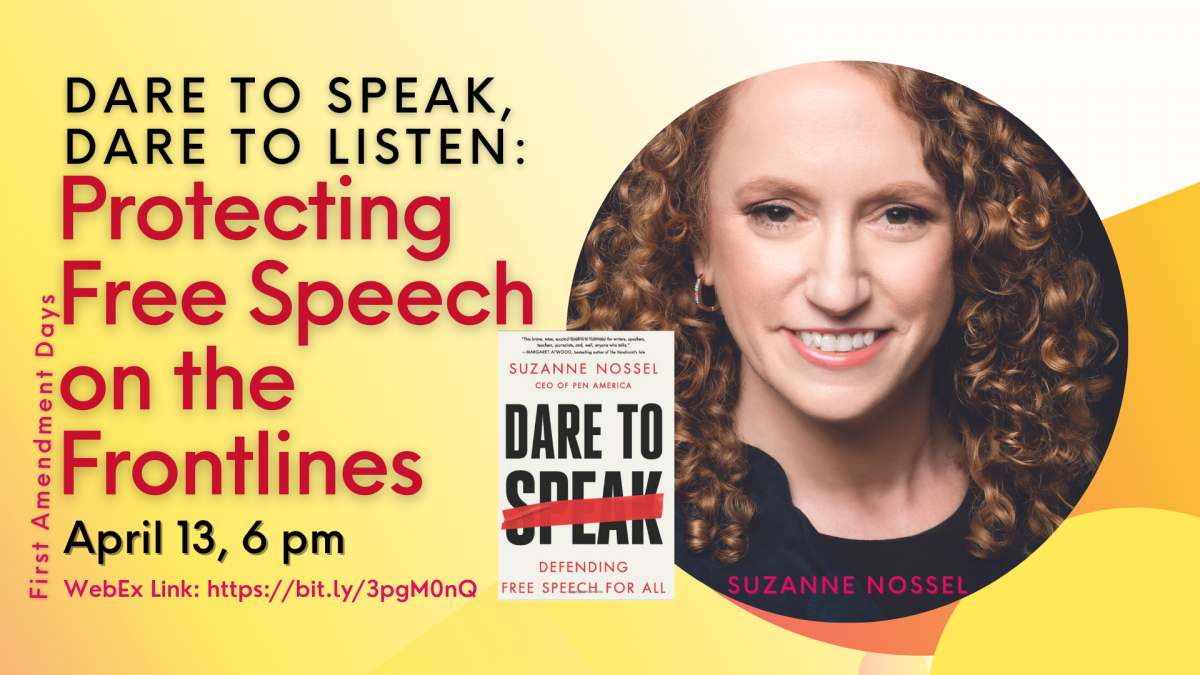 WebEx Link: https://bit.ly/3pgM0nQ
This event will be recorded. The recording will be posted on the Lectures website at Recordings > Available Recordings for two weeks.
The guarantee of free speech is essential to any well-functioning democracy, and yet here in the United States free speech is losing its moorings on both the right and the left, with mounting encroachments on open discourse in schools, universities, the news, media and online. Meanwhile pitched battles are taking place over words, ideas, books, historical interpretations, posts and tweets. In an increasingly polarized America, free speech defenders seem to be increasingly selective, crying out when their rights are encroached upon, but often going mum when the silencing targets the other side. This talk will lay out a blueprint for how we can live together in a diverse, digitized and divided society without resorting to curbs on free speech.
Suzanne Nossel currently serves as the Chief Executive Officer of PEN America, the leading human rights and free expression organization, and she is author of Dare to Speak: Defending Free Speech for All. Since joining in 2013, she has doubled the organization's staff, budget, and membership, spearheaded the unification with PEN Center USA in Los Angeles and the establishment of a Washington, D.C. office, and overseen groundbreaking work on free expression in Hong Kong and China, Myanmar, Eurasia, and the United States. She is a leading voice on free expression issues in the United States and globally, writing and being interviewed frequently for national and international media outlets. Her prior career spanned government service and leadership roles in the corporate and nonprofit sectors. She has served as the Chief Operating Officer of Human Rights Watch and as Executive Director of Amnesty International USA. During the first term of the Obama Administration, Nossel served as Deputy Assistant Secretary of State for International Organizations, where she led U.S. engagement in the United Nations and multilateral institutions, on human rights and humanitarian issues.