Dare to Speak, Dare to Listen in the Courtroom: Seeking Justice for All
Speaker:
Hon. Judge Rosemarie Aquilina
Campanile Room, Memorial Union
Co-sponsors:
First Amendment Days
Greenlee School of Journalism and Communication
Catt Center for Women and Politics
Womxn* in Pre-Law Club
Committee on Lectures (funded by Student Government)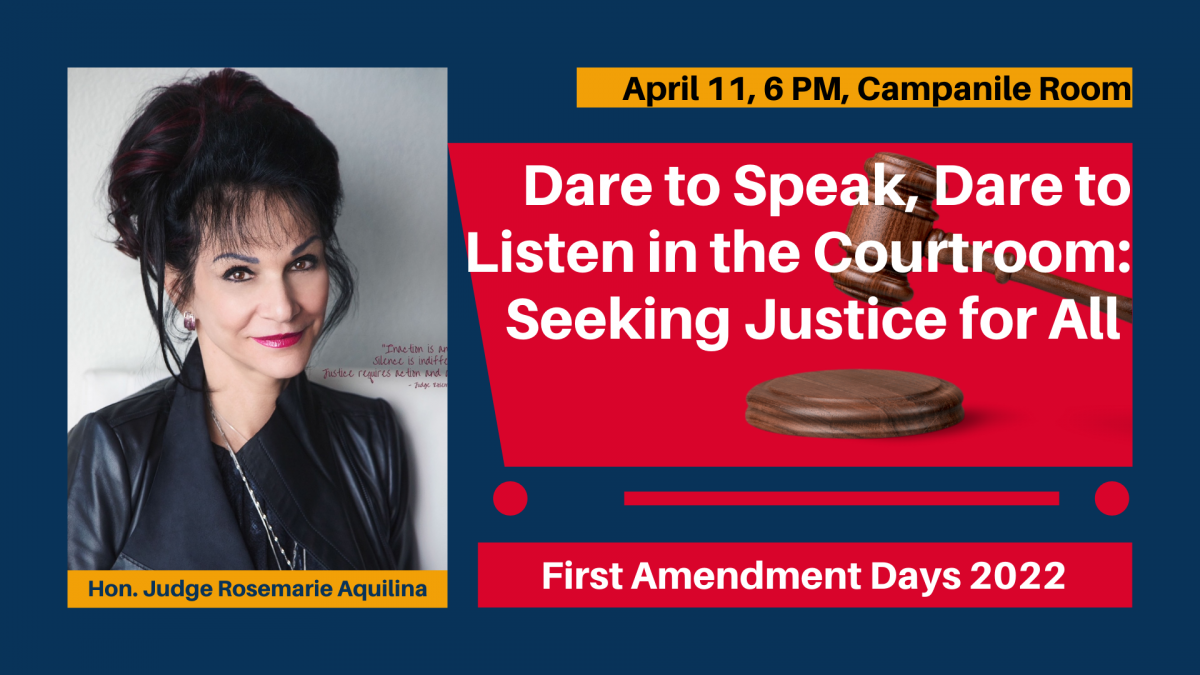 View Distinguished Professor Michael Bugeja's video about the career of First Amendment Day keynote speaker Judge Rosemarie Aquilina: https://www.youtube.com/watch?v=8hRfzlEQ8KI
In 2018, Hon. Rosemarie Aquilina, a Michigan Circuit Court judge, gained worldwide attention when she allowed every one of the victims in the sexual assault case against USA Gymnastics doctor Larry Nassar to speak in court before his sentencing. In all, more than 150 women and girls shared their testimony. Hear Judge Aquilina's powerful story about the importance of speaking and listening as a form of healing. Questions from audience are encouraged. First Amendment Days 2022
Judge Rosemarie Aquilina was elected to the 30th Circuit Court for Ingham County in November of 2008. Previously, she served as a 55th District Court Judge for four years, during which time she served as Chief Judge as well as the Sobriety Court Judge. Judge Aquilina retired Honorably from the Michigan Army National Guard after 20 years of service. She became part of Michigan's history by becoming the first female JAG Officer in the Michigan Army National Guard when she enlisted. Ultimately, she became one of the most requested JAG Officers because of her dedication to service and the soldiers she served with.
Judge Aquilina is an adjunct professor at Thomas M. Cooley Law School where she enjoys teaching classes to include Family Law, Advanced Trial Practice-Family Law, Legislative Process, Defending Battered Women, Animal Law, Child Abuse and Neglect, Elder Law, and Military Law. Cooley Law School awarded Judge Aquilina the distinguished Griffen Award for Teaching Excellence. She is also an adjunct professor at Michigan State University School of Law teaching numerous classes in the Feiger Trial Practice Institute to include Criminal Trial Practice, Civil Trial Practice, Trial Practicum, Criminal Law and Criminal Procedure in the JD and LLM programs. Michigan State University honored Judge Aquilina with the College of Law Student Bar Association Adjunct Faculty Award for exceptional teaching. Judge Aquilina earned her Juris Doctorate degree from Thomas M. Cooley Law School in 1984 and her Bachelor of Arts Degree from Michigan State University in 1979. 
At the Heart of Gold: Inside the USA Gymnastics Scandal
In connection with the keynote lecture by Hon. Judge Rosemarie Aquilina, we are pleased to make available a free, limited-time screening of the critically acclaimed documentary film At the Heart of Gold: Inside the USA Gymnastics Scandal. The screening link will expire on April 11.
This feature-length documentary investigates the dangerous culture that allowed abuser Larry Nassar to operate for so long, and the organizations that prioritized winning over child safety. Using a mix of original and rarely seen archival footage, At The Heart of Gold examines a culture that silenced young women for decades and their ultimate triumph in reclaiming their own narratives.
The film puts the survivors' stories at the forefront, following their fight for accountability from the powerful institutions that failed them.
This film contains depictions of sexual abuse. Sensitive viewers, be advised. https://iastate.qualtrics.com/jfe/form/SV_4ZvzlLpLdCmZBNY