The Costs of Activism: A Dilemma for the Individual Asian American
Co-sponsors:
Asian American and Pacific Islander Faculty and Staff Association
Asian Student Union
Chinese Faculty and Staff Associaltion
Chinese Students and Scholars Association
Committee on Lectures (funded by Student Government)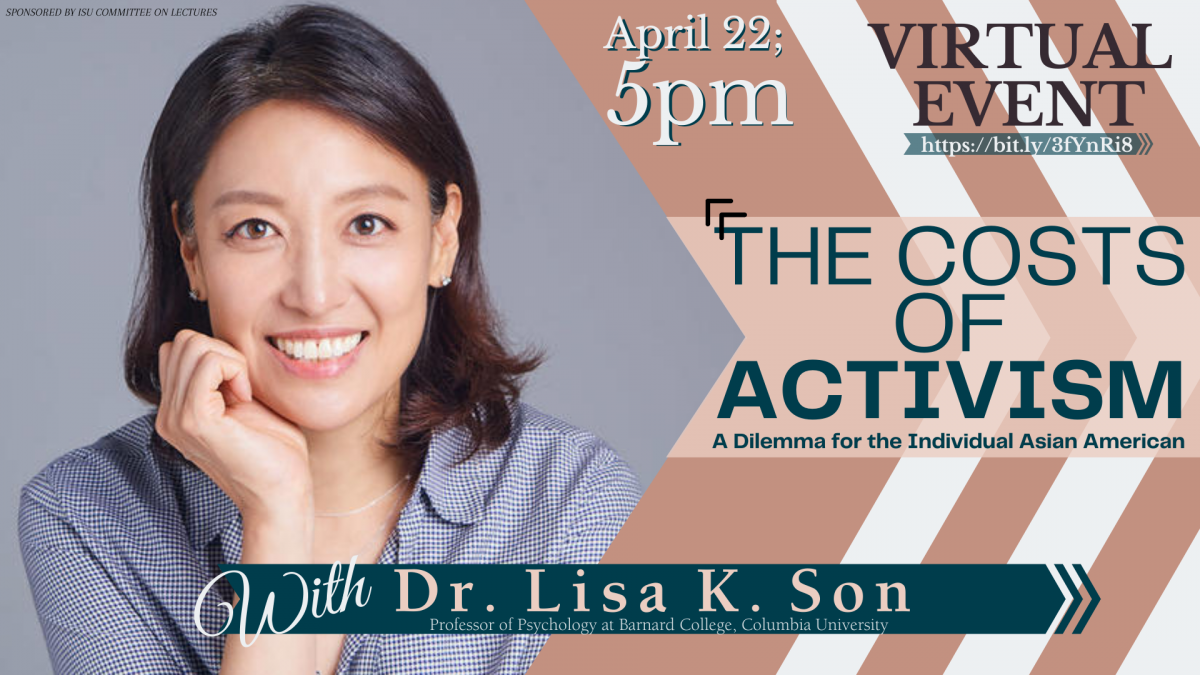 Recording Link: https://iastate.hosted.panopto.com/Panopto/Pages/Viewer.aspx?id=8f341d6d-48c5-4156-b0ea-ad13000069ce
Dr. Lisa K. Son, Professor of Psychology at Barnard College, Columbia University, specializes in human learning and memory, and in metacognition. Her research focuses on how accurately people know the "self," and on the optimization of long-term retention. Receiving a BA from the University of Pennsylvania and a Ph.D. from Columbia University, her work has been published in prestigious journals including Psychological Science, Cognitive Science, and Educational Psychology Review. She has received funding from the U.S. Department of Education and the American Psychological Society for her work with elementary school-aged children, and was, twice, named a Fulbright Scholar to South Korea. Her book, The Science of Metacognition (2019, in Korean), has begun to raise awareness on the illusions that occur during learning, and on ways in which to increase performance. Dr. Son has recently become active in the movement against anti-Asian racism, contributing at rallies, on radio, and in various opinion pieces.