Corpus Linguistics and the Law: The Debate over Empirically Based Legal Interpretation
Co-sponsors:
Department of English
Committee on Lectures (funded by Student Government)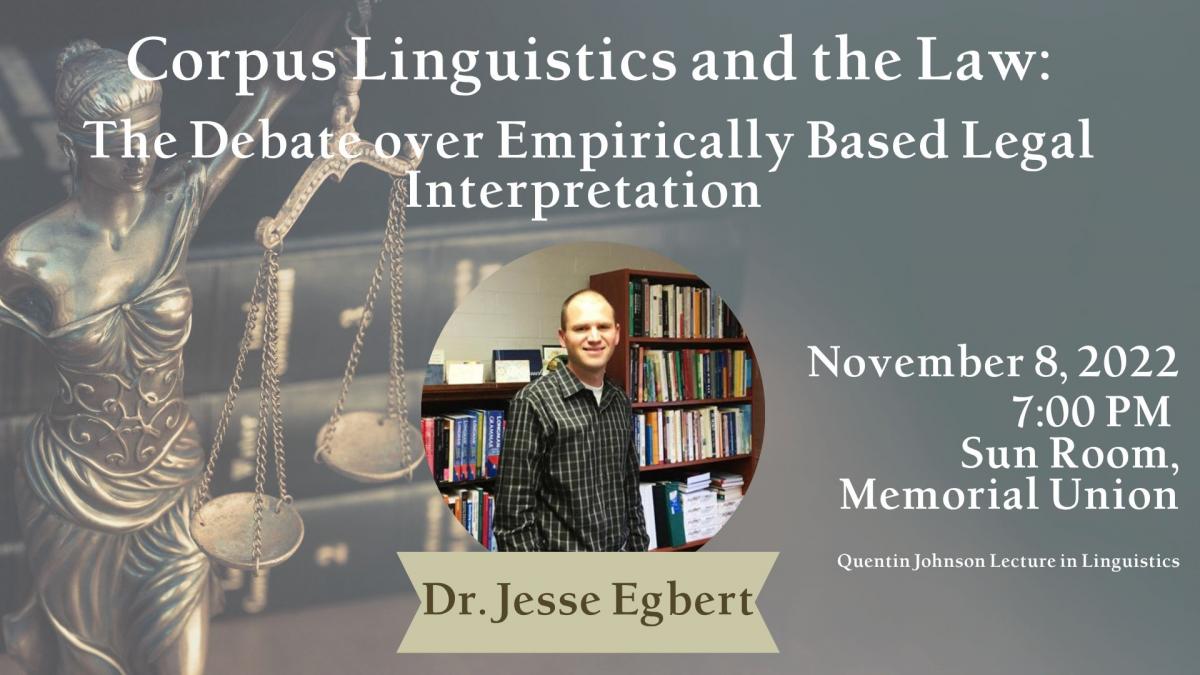 Quentin Johnson Lecture in Linguistics
This event was recorded and will be available for two weeks on the Lectures website at https://www.lectures.iastate.edu/recordings/available-recordings
In November 2007, Andy Rasabout, a member of a Salt Lake City street gang, fired twelve shots from a pistol aimed at an occupied house. The jury convicted Rasabout of "unlawful discharge of a firearm," but it wasn't clear whether he was guilty of one felony count or twelve. Why? There was debate about whether discharge refers to a single shot or to multiple shots during a single shooting event. The interpretation of this single word—discharge—would determine whether Rasabout could serve five years in prison or sixty. The case was ultimately decided by the Utah Supreme Court. Most of the justices relied on intuition and dictionaries, while one justice—Tom Lee—advocated for a radically new approach to determining meaning: corpus linguistics, or the empirical study of language use in a corpus, or large, principled sample of natural texts. 
Since the time of that case, there has been a rapidly accelerating movement within the legal community to incorporate linguistics into legal interpretation. For 'textualist' judges, the written text of laws, including the Constitution, is the primary focus for interpretation. In order to interpret the meaning of ambiguous words and grammatical structures used in a law, textualists have traditionally used their own intuition about 'ordinary' meaning, with the occasional reference to a dictionary or a set of linguistic prescriptions called 'canons of construction'. However, some judges and legal scholars are now beginning to see that the field of linguistics offers theory and empirical methods that can aid in legal interpretation. In particular, corpus linguistics has been proposed as (1) a viable alternative to dictionaries and language intuitions, and (2) a method for investigating (and possibly improving) the validity of the long held 'canons' (i.e. prescriptive rules) of legal interpretation.
This talk will include an overview of the 'law and corpus linguistics' movement, using examples from empirical studies related to the original meaning of the now nearly obsolete word 'emolument', as well as several of the linguistic canons of construction, concluding by proposing a set of key principles that should guide linguists as they apply their expertise to legal questions.