Cool Technologies to Cool the Planet
Great Hall, Memorial Union
Co-sponsors:
Office of Sustainability
Committee on Lectures (funded by Student Government)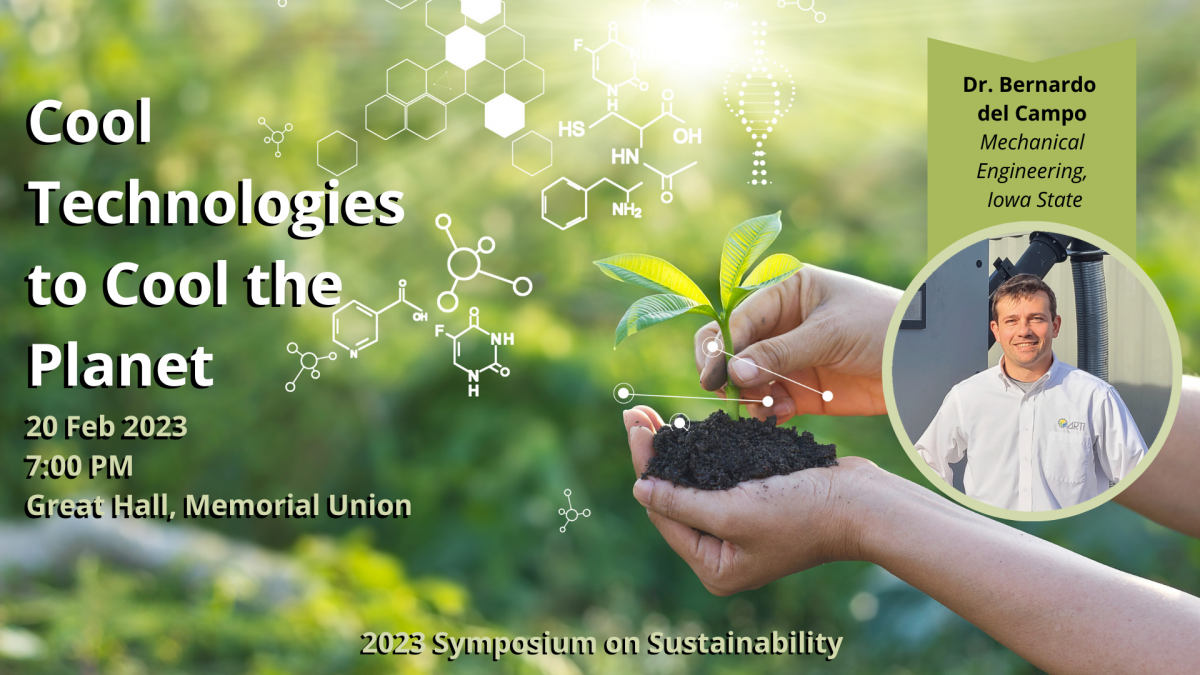 The 2023 Symposium on Sustainability celebrates the diversity of sustainability efforts and initiatives taking place within our campus community focusing on supporting and nurturing enablement and empowerment toward a sustainable future that extends into the Ames community, as well as communities across the state and throughout the world. Features of this year's event include an opening speaker, a keynote speaker, sustainability tabling and art exhibits and the accompanying multi-fasceted, interactive event, Sustainapalooza.
This year's Symposium opening speaker is Iowa State graduate, Dr. Bernardo del Campo. He is the President of ARTi - Advanced Renewable Technology International, where he leads projects to design, manufacture, and implement pyrolysis systems around the world to turn waste biomass into biochar, a carbon-rich material to improve soils and sequester carbon dioxide. Besides reactor manufacturing, the ARTi team research and develops carbon products transforming wastes into biochar and modifying it to produce activated carbon, carbon black replacement, soil media, carbon sequestration products, and many others.
Dr. del Campo attended Iowa State University where he got his Ph.D. in Mechanical Engineering with a Co-major in Biorenewable Resources and Technology in 2015. He worked in the Thermochemical lab developing carbon products from Biochar. He founded ISU Biobus for the production of biodiesel on campus to assist fueling a Cyride bus. He has been involved in various "Live green" initiatives at the ISU campus and he was one of the awardees in the Green Talent International Forum for High Potentials in Sustainable Development Competition hosted by the German Federal Ministry of Education and Research in 2012. 
For the symposium, Dr. del Campo will present many of the "cool solutions" that the ARTi team is developing to "cool the planet".
This lecture was recorded and the recording will be available here: https://www.lectures.iastate.edu/recordings/available-recordings