A Conversation About the 1619 Project with Nikole Hannah-Jones
Co-sponsors:
Political Science
Committee on Lectures (funded by Student Government)
Parks Library
College of Liberal Arts and Sciences
Pat Miller Lecture Fund
African American Studies Program
Carrie Chapman Catt Center for Women and Politics
Margaret Sloss Center for Women and Gender Equity
University Committee for the Advancement of Women and Gender Equity
Office for Diversity, Equity, and Inclusion
History Department
Women's Studies
Greenlee School of Journalism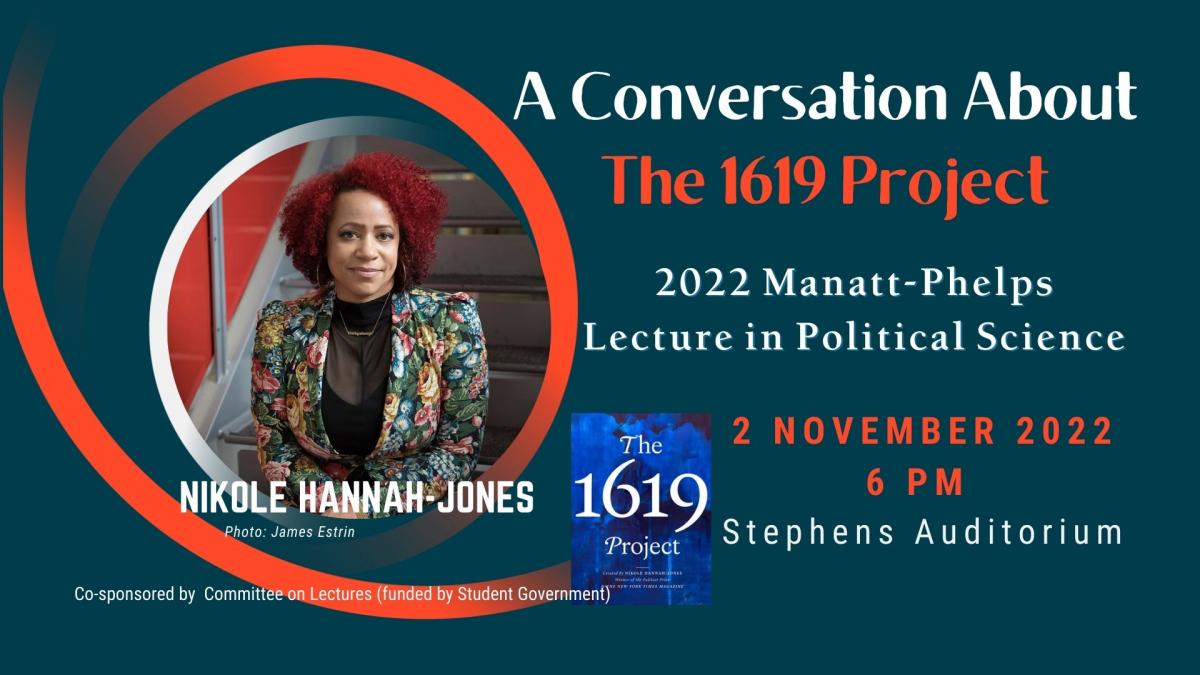 **UPDATE: Event is now at 7pm; doors open at 6pm due to a travel issue. We apologize for any inconvenience.**
2022 Manatt-Phelps Lecture in Political Science
Q&A will be done by the moderators with pre-submitted questions. If you would like to submit a question for Ms. Hannah-Jones, please email it to lectures@iastate.edu. Questions submitted from ISU students with iastate.edu emails will be given priority, but there is no guarantee that any particular question will be asked. Please indicate if you would like your name included with the question (to be read aloud) or would like to be anonymous. Questions must be submitted by 12pm on Nov. 2 to be considered.
This event is free, open to the public, and does not require a ticket for entrance.
Doors open at 5pm.The first 11 rows (500 seats) will be reserved for ISU students until 5:40pm; show your ISU student ID at the SE or SW Tower doors to enter. The general public may enter through the North Doors.
No bags will be permitted. Small bags for medical supplies and diaper bags will be permitted but will be searched before entry.
No picket signs, banners, or other materials that could block views or be used as a weapon will be permitted.
Nikole Hannah-Jones is the Pulitzer Prize-winning creator of the 1619 Project and a staff writer at The New York Times Magazine. The book version of The 1619 Project was an instant #1 New York Times bestseller. Hannah-Jones has spent her career investigating racial inequality and injustice, and her reporting has earned her the MacArthur Fellowship, known as the Genius grant, a Peabody Award, two George Polk Awards and the National Magazine Award three times. She also serves as the Knight Chair of Race and Journalism at Howard University, where she is founding the Center for Journalism & Democracy.
Hannah-Jones is also the co-founder of the Ida B. Wells Society for Investigative Reporting, which seeks to increase the number of investigative reporters and editors of color, and this year she opened the1619 Freedom School, a free, afterschool literacy program in her hometown of Waterloo, Iowa. Hannah-Jones holds a Master of Arts in Mass Communication from the University of North Carolina at Chapel Hill and earned her BA in History and African-American studies from the University of Notre Dame.
The University Book Store will be on site selling copies of The 1619 Project: A New Origin Story and Born on the Water.
At speaker request, this event will NOT be live streamed or recorded.