City Bird, Country Bird: How Human Activity Affects Predator-Prey Interactions
Great Hall, Memorial Union
Co-sponsors:
Department of Natural Resource Ecology and Management
Department of Ecology, Evolution and Organismal Biology
College of Agriculture and Life Sciences
College of Liberal Arts and Sciences
Department of Agronomy
Iowa Cooperative Fish and Wildlife Research Unit
Committee on Lectures (funded by Student Government)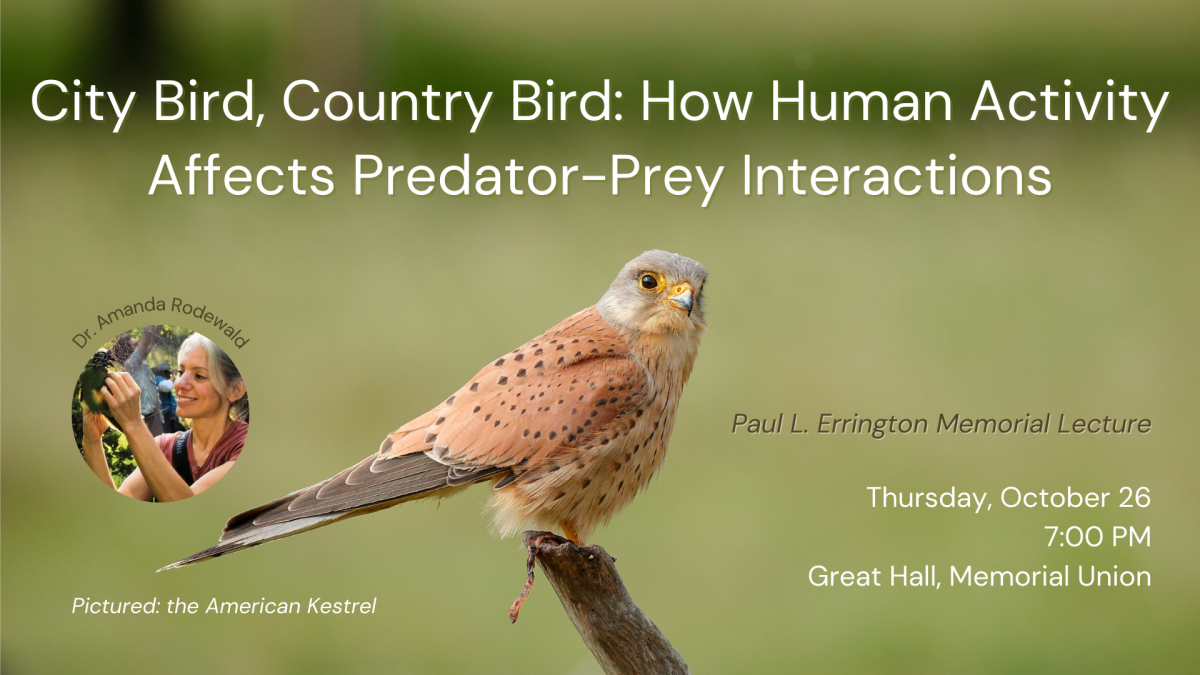 2023 Paul L. Errington Memorial Lecture
Amanda D. Rodewald is the Garvin Professor and Senior Director of the Center for Avian Population Studies at the Cornell Lab of Ornithology and the Department of Natural Resources and the Environment at Cornell University. Prior to joining Cornell in 2013, she spent 13 years as a professor at Ohio State University. Dr. Rodewald received a B.S. in Wildlife Biology from University of Montana, a M.S. in Zoology from University of Arkansas, and a PhD in Ecology from Pennsylvania State University. Her interdisciplinary research integrates population, community, and landscape ecology with conservation biology and sustainability science, and uses community science, big data, and computational modeling to understand and address conservation challenges in temperate and tropical landscapes. Dr. Rodewald also serves on the Science Advisory Board of the U.S. Environmental Protection Agency.
Dr. Paul L. Errington, quoted by Animal Ecology Today as one of the "four great pioneers of animal ecology", was a professor of wildlife biology at Iowa State University from July, 1932 until his retirement. Dr. Errington's love and understanding of nature is shown in four popular books: Of Men and Marshes, The Red Gods Call, Of Predation and Life, and A Question of Values. A Question of Values is a collection of essays published posthumously in 1987. Paul L. Errington passed along a priceless heritage of conservation wisdom and insight to those who have the opportunity to read what he wrote, who benefit from his skills, and who must continue to question and enlarge upon his findings. On the occasion of the annual Paul L. Errington Memorial Lecture, we recognize and pay tribute to his special qualities as a person and as a scientist.
---
This lecture was recorded and can be viewed on the Available Recordings page.