37 Words: Title IX and 50 Years of Fighting Sex Discrimination
Great Hall, Memorial Union
Co-sponsors:
Carrie Chapman Catt Center for Women and Politics
University Library
Committee on Lectures (funded by Student Government)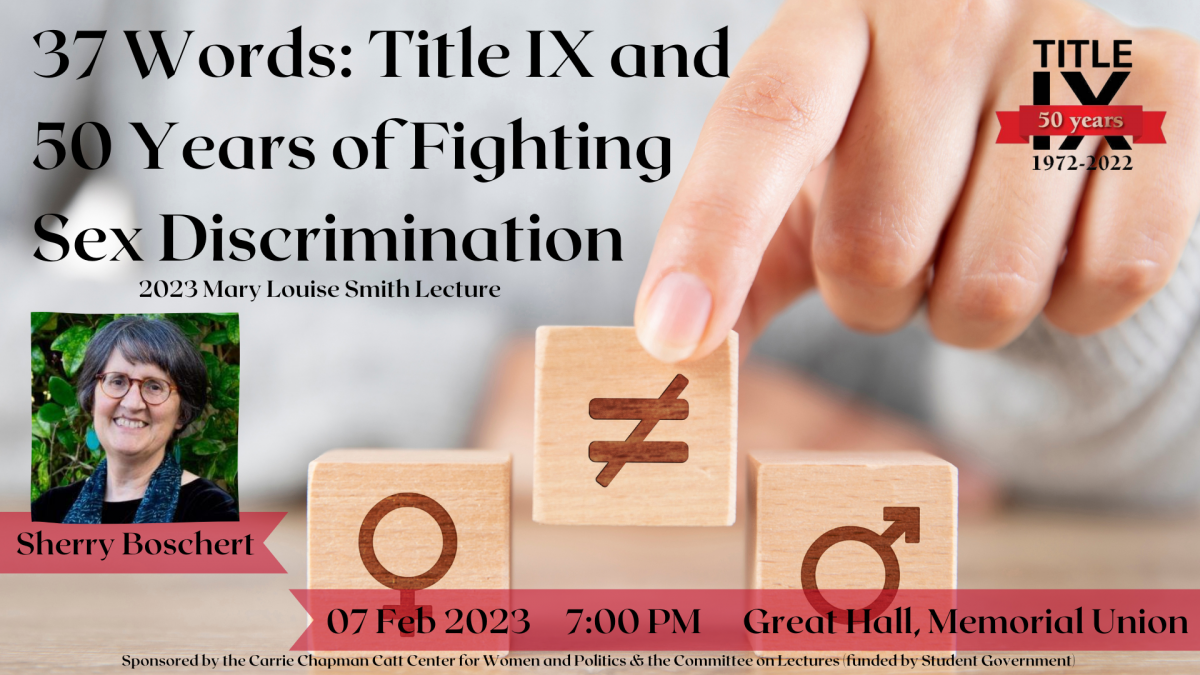 Mary Louise Smith Lecture
Sherry Boschert is an award-winning journalist and author of 37 Words: Title IX and Fifty Years of Fighting Sex Discrimination, a history of Title IX, the law that prohibits sex discrimination in federally funded education. Among her many honors, she received a Distinguished Service Award from the Society of Professional Journalists for her efforts to promote equity within the news industry. After forty years in the San Francisco Bay Area, she now lives in New Hampshire.
Half a century of legal battles and social backlash revolve around a law that girls and women wield to demand fairness in education — a law called Title IX. 37 Words is the first book to tell the complete history of Title IX through the gutsy people behind it, from women denied jobs at the law's beginnings to students struggling against sexual assault today. Their intersecting narratives offer a timeless playbook for anyone who is horrified by current attacks on women's rights and is wondering what to do about them.
This event was recorded and will be available for two weeks on the Lectures website at https://www.lectures.iastate.edu/recordings/available-recordings
The ISU Book Store will be at the event selling copies of Boschert's book.
Additional Resources
Check out the University Library's Title IX 50th Anniversary Resources here: https://www.diversity.iastate.edu/events-resources