The 2020 Norman Borlaug Lecture: Carbon Farming for Food and Climate Security: Producing More From Less
Speaker:
World Food Prize Winner Dr. Rattan Lal
Co-sponsors:
Nutritional Sciences Council
Office of the President
World Food Prize Foundation
Committee on Lectures (funded by Student Government)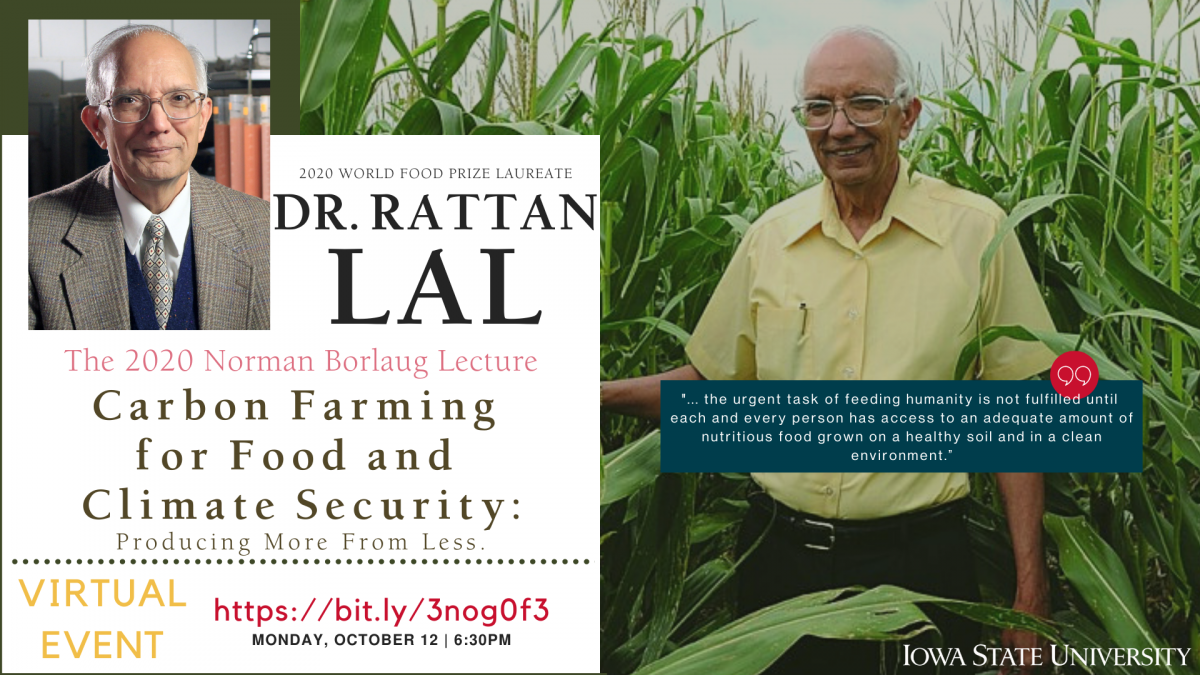 Join a conversation with the 2020 World Food Prize Laureate, Dr. Rattan Lal, whose innovative research demonstrated how healthy soils are a crucial component of sustainable agricultural intensification – enabling higher crop yields, while requiring less land, agrochemicals, tillage, water and energy. His work has been pivotal in enhancing the productivity and sustainability of global agricultural systems, resulting in improved crop yields and food security, while also saving hundreds of millions of hectares of natural tropical ecosystems. Dr. Lal's presentation will focus on sustainable development goals and the effect of the COVID-19 global pandemic.
World Food Prize press release: Soil Health Trailblazer Honored as 2020 World Food Prize Laureate
Biographical Information: 2020 World Food Prize Laureate Dr. Rattan Lal
Dr. Norman Borlaug (1914-2009) was a Cresco, Iowa, native whose discoveries sparked the Green Revolution. He received the Nobel Peace Prize in 1970 for his contribution to world peace through his wheat research and production that saved millions of lives worldwide. He founded the World Food Prize in 1986 to recognize the achievements of individuals who have advanced human development by improving the quality, quantity or availability of food in the world.
WebEx link: https://bit.ly/3nog0f3
Note: You will have to provide your name to enter.