Aquatic Foods for Nourishing Nations: 2021 Norman Borlaug Lecture
Speaker:
Dr. Shakuntala Haraksingh Thilsted
Great Hall, Memorial Union
Co-sponsors:
Office of the President
Nutritional Sciences Council
College of Agriculture and Life Sciences
College of Liberal Arts and Sciences
College of Human Sciences
Seed Science Center
Committee on Lectures (funded by Student Government)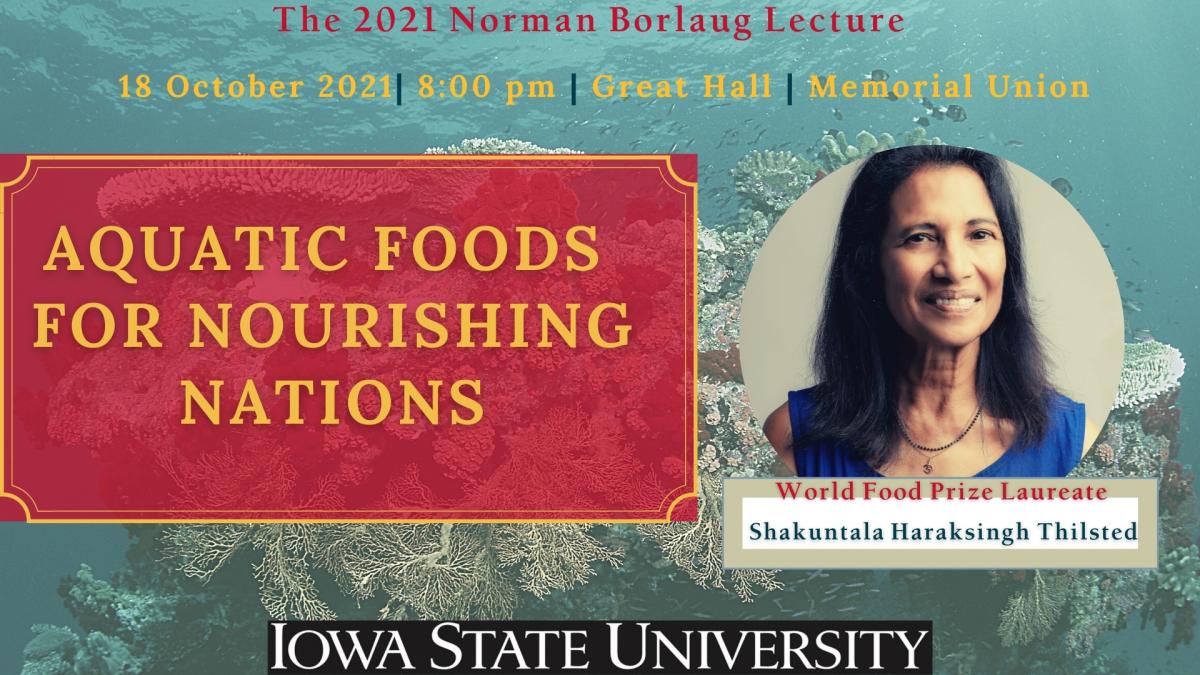 The 2021 Norman Borlaug Lecture - World Food Prize Laureate Shakuntala Haraksingh Thilsted
Recording Link: https://iastate.hosted.panopto.com/Panopto/Pages/Viewer.aspx?id=1e6f3da0-7e18-45f4-af44-adc701198bb8
The emergence of aquatic foods as one of the key opportunities for action in the UN Food Systems Summit 2021 is an important step towards recognizing the potential of aquatic foods in addressing global food and nutrition security, and transforming food, land and water systems. Aquatic foods are superfoods, providing multiple micronutrients and essential fatty acids, crucial for cognition, development and growth in young children and nutrition and health in adults. As aquatic foods are consumed by over 3 billion people and provide livelihood opportunities for over 800 million people globally, it is imperative that we advocate for food and nutrition policies, investments and interventions that include aquatic foods for nourishing nations.
Shakuntala Haraksingh Thilsted is the Global Lead for Nutrition and Public Health at WorldFish, a One CGIAR entity. She was awarded the 2021 World Food Prize for her groundbreaking research, critical insights, and landmark innovations in developing holistic, nutrition-sensitive approaches to aquatic food systems, including aquaculture and capture fisheries. She was awarded the 2021 Arrell Global Food Innovation Award for research innovation. Thilsted played a key role in the development of the WorldFish 2030 research and innovation strategy: Aquatic Foods for Healthy People and Planet. She is a member of the Steering Committee of the High Level Panel of Experts on Food Security and Nutrition (HLPE) of the United Nations Committee on World Food Security (CFS) and Vice Chair of the UN Food Systems Summit 2021: Action Track 4 - Advance Equitable Livelihoods, and also a Food Systems Champion. Thilsted plays a pivotal role in promoting aquatic food systems for nourishing nations and achieving the Sustainable Development Goals (SDGs). Shakuntala holds a PhD from the Royal Veterinary and Agricultural University (presently: Faculty of Life Sciences, University of Copenhagen), Denmark. She holds an Honorary Doctorate from the Swedish University of Agricultural Sciences.
Borlaug Lecture
Dr. Norman Borlaug (1914-2009) was a Cresco, Iowa, native whose discoveries sparked the Green Revolution. He received the Nobel Peace Prize in 1970 for his contribution to world peace through his wheat research and production that saved millions of lives worldwide. He founded the World Food Prize in 1986 to recognize the achievements of individuals who have advanced human development by improving the quality, quantity or availability of food in the world.